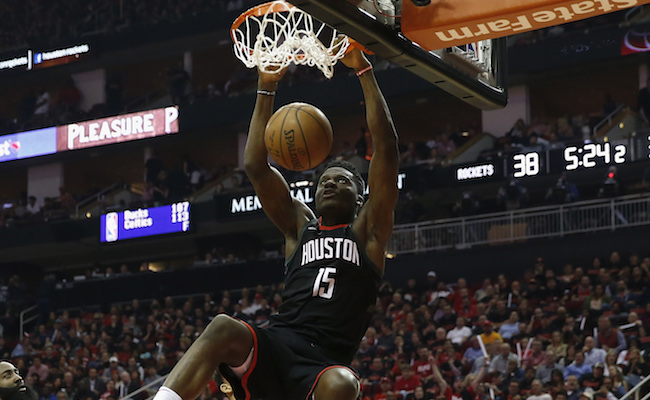 Given his age and production during the 2017-2018 season, Clint Capela was arguably the most intriguing big man on the market when free agency began. The 24 year old was certainly placed in a favorable position playing alongside James Harden and Chris Paul with the Houston Rockets but, in today's NBA, a switchable, defense-focused big man with the ability to finish around the rim is in high demand and, as a result, Capela undoubtedly received a great deal of free agent interest.
In the end, however, Capela made the unsurprising decision to re-sign with the Houston Rockets, particularly after the market dried up considerably in the early days of free agency. The report of the two sides reaching a deal was first made public by Kelly Iko of The Rockets Wire before Adrian Wojnarowski of ESPN confirmed with the details of the agreement.

Few people are going to be happier about this arrangement than Harden, who learned the news while speaking to reporters during the USA Basketball minicamp in Las Vegas.
In his fourth NBA season, Capela posted career-best numbers, including 13.9 points, 10.8 rebounds and 1.9 blocks per game for the Western Conference finalists. In addition, he led the NBA in field goal percentage (65.2 percent) and Capela's defensive impact was significant helping Houston transform itself into a full-blown title contender.
Moving forward, it will be interesting to see if the No. 25 overall pick in the 2014 NBA Draft can build on his individual growth but, now, we know where he will be operating for the foreseeable future.

UPDATE: Shams Charania of Yahoo Sports added some more details about the financials surrounding this deal. Eighty million of the $90 million Capela will receive is guaranteed, with an additional $10 million coming via incentives.
That's a ton of guaranteed money, but the Rockets obviously believe that Capela is a crucial piece to what they are trying to build in Houston.