Before Clint Capela was dribbling with his hands in the NBA, he was dribbling a soccer ball with his feet in Switzerland. The Houston Rockets center was just a soccer player with above average height before he took up basketball and found his way into the NBA.
Capela has played three seasons with the Rockets since he was drafted with the 25th pick in the first round of the 2014 Draft Lottery, but he hasn't forgotten his footy roots. Capela was heading to Cardiff, Wales, last week to watch the UEFA Champions League final with the NBA as part of its international outreach initiatives.
He took a moment to talk with us about his favorite soccer team, James Harden's ascent at the point for the Rockets, and how Houston takes the next step in the postseason next year.
Thanks for chatting with us during the trip. Have you been to Wales before?
No, I've never been to Wales before and I'm looking forward to it. We're going for the Champions league final, which is between Real Madrid and Juventus, and I'm really excited.
Have you been to a Champions League final before? What sort of atmosphere is that like?
Yeah, I went to a Final before — last year: Athlético Madrid and Real Madrid. Of course this is not Athlético Madrid so it will be way harder [for Real]. But I'm more excited for this one than last year.
(Ed. note: Real Madrid beat Juventus, 4-1)
So what's your favorite club?
My favorite club is Arsenal.
Ah, same here. So they're not going to be in the Champions League next season for the first time in a while. Arsene Wenger is coming back next year, are you excited about that or were you a #WengerOut guy like a lot of fans I've talked to in America?
Yeah, I saw that Wenger signed for two more years. Well, I really hope they can manage to get some good players now. We need to step up. I don't want to play Europa League for another five years now.
They finished fifth for the first time in I don't know how many years. Seventeen years? Yeah, I was sad.
So how did you end up being an English Premier League fan? How did a side from North London become your team?
I grew up in Switzerland, in Geneva, which is a French part of Switzerland. So on TV we had the French channels, so we were always watching the French national team.
And the French national team, the best player always scoring goals was Thierry Henry. So I started to like Thierry Henry and I watched him growing up as Arsenal greatness. He was greatness — always scoring goals — he was carrying Arsenal on his back consistently every year.

So you played a lot of soccer growing up and from what I read you basically got so tall that someone said 'You should try playing basketball.'
Yeah (laughs). My brother.
Just playing that much soccer growing up, how did that affect your development as a basketball player?
The footwork in soccer is a major part of the game. So as soon as I started playing basketball I was better. It was more easy for me than my teammates to make my first layup. To get those two steps. It was more easy for me learn a eurostep. It took me less time to learn all those first steps in basketball because of soccer.
How important do you think it is to play different sports growing up? There's always this argument about specialization, whether to focus on one sport or to cross-train with a few different disciplines. Do you think it helped significantly to play different sports?
I think kids need to try all those other activities and sports so they don't make the wrong choice. It doesn't just have to be basketball.
You had a pretty significant injury over the last season. How difficult was it to come back from that?
It was difficult not being with the team. But to be able to finish the year and get all those wins together was good—that was a good experience at the end. That makes me tougher—I've been going every single day at the gym. Physically, mentally, I got stronger.
You're locked up with Houston for another year. How important is it to keep this current group together with James Harden and see where you can go?
The most important thing is that we need to do it again. Because it's going to be way harder now that every team knows how we play. They all know who to watch on the court, so every team is going to expect us at that level so we have to keep our mind at that level and do the same thing that we did last year because this year's going to be way harder.
Can you talk a bit about playing with Harden? He had an MVP-caliber season in his first full year as a point guard.
He's amazing. He been helping this team all year, consistently making the right choice, the right passes. He's unbelievable. This was his best season for us.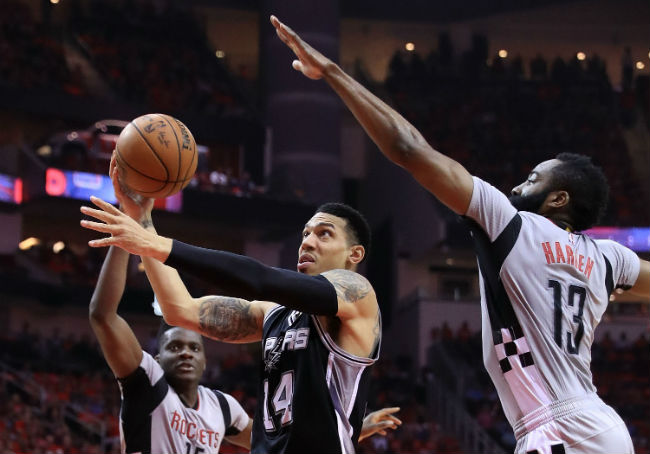 He's heavily credited his teammates with his success at the position this year, but did you see a change in him this last year in how he approached the game?
Yeah, this year he got better with sharing the ball. You have to make everyone involved. And he did it consistently. Even if some games it was hard, he was really focused on keeping everybody involved. Keeping everybody's confidence level up at the top of their game.
You had a disappointing end to your season. Was it tough to watch the Western Conference Finals and see Golden State get past San Antonio so easily?
They were better than us, they had more experience. But it was our first time at that point. So now we have to man up and hopefully we can go further next year if we can be as good as last year season.