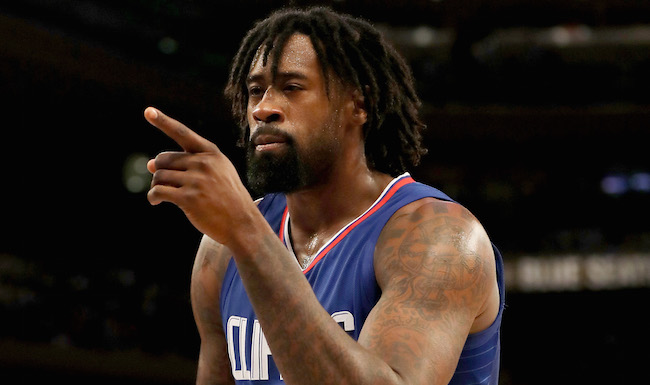 The Los Angeles Clippers have entered a significant downward spiral over the past three weeks of the NBA season. After a 5-2 start, the Clippers have dropped nine straight games and, making matters worse, are dealing with serious injury trouble.
Point guards Milos Teodosic and Patrick Beverley are both out for significant time, with Beverley out for the season after recent knee surgery. The lack of strong point guard play in the absence of Chris Paul has significantly hurt the productivity and efficiency of the Clippers' star big men, particularly DeAndre Jordan.
Jordan's 10.1 points per game average is his lowest since 2012-13, when he was only playing 25 minutes per game, and he's posting his lowest field goal percentage since that season as well. Paul's mastery at setting up Jordan helped him become a star and without that kind of pick-and-roll partner he's not quite finding the same success this season.
Naturally, that raises the question of whether it's time for the Clippers to shake things up with their frontcourt. Griffin got locked up on a max deal this summer and Jordan has a player option for next season, so there's obviously only one choice for L.A. to make when it comes to trying to make a trade.

As the Washington Post's Tim Bontemps reports, "multiple teams" have had discussions with the Clippers about Jordan, although there's reason to question whether he gets moved.
DeAndre Jordan, who can become a free agent after the season, has been coming up in trade conversations, with multiple teams talking potential trades. Executive Vice President of Basketball Operations Lawrence Frank said last month that Jordan will be a "Clipper for life," muddled matters, as does the limited number of teams who need a center and the size of Jordan's contract ($22.6 million).
Jordan's contract makes finding a trade partner tricky, as does his style of play, as noted by Bontemps. What it will really come down to is whether a team feels comfortable with re-signing Jordan on a massive contract next summer, because the value teams would be willing to give up for Jordan on a one-year rental likely won't match up with the Clippers' asking price.
The point guard situation in L.A. could push the Clippers to try and make a deal sooner rather than waiting it out to the deadline, but in either case it's going to come down to whether teams are willing to part ways with the kind of quality asset the Clippers need in return.