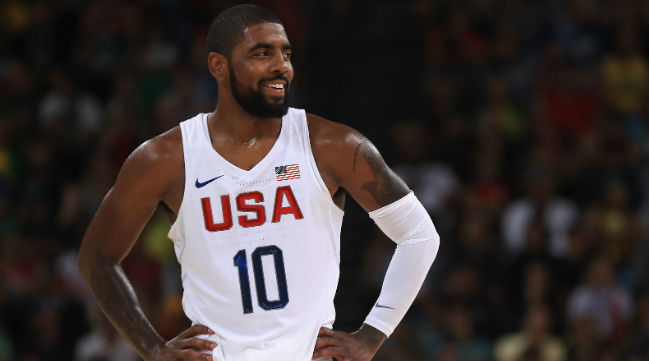 Years after he played just 11 games for the Duke Blue Devils, Kyrie Irving is earning high praise from Mike Krzyzewski. Coach K gave some pretty impressive quotes to Bleacher Report in a feature the site's magazine wrote on Irving.
The piece, which tracks Irving from high school prospect to first overall pick in the NBA Draft and beyond, is loaded with praise for his malleability and his intelligence on the court.
Before he played with future NBA player Michael Kidd-Gilchrist at St. Patrick, Irving started his high school career at Montclair Kimberly in New Jersey, a great academic school with a less-than stellar basketball program. Irving worked with an AAU coach named Sandy Pyonin to improve his game and he soon was turning heads, including that of Coach K.
The summer after his sophomore year, Irving played with Pyonin's NJ Roadrunners team in a summer AAU tournament in Florida. A lot had changed in 24 months. He had gotten a little quicker, a little bigger and had grown to be 5'10". But more importantly, a few choice college coaches began to notice, including Duke's Mike Krzyzewski.

"He wasn't playing with the best team in New Jersey," Krzyzewski tells B/R Mag. "But he was single-handedly killing all these teams." Later, when he could talk to Kyrie, he told him:

"You'll be one of the best of your generation."
That quote was enough to get Irving to play at Duke, where he played a season shortened due to a toe injury. Still, he was impressive enough to get drafted first overall by the Cleveland Cavaliers in 2011. Krzyzewski did get to coach Irving again as Team USA basketball coach in the 2014 FIBA World Cup.
Coach K's quotes about Irving are pretty telling.
"He's so damn good," Krzyzewski says. "He fits perfectly with others around him."
The rest of the piece is pretty fascinating, and includes some fun moments including his hilarious nickname at St. Patrick and his stage debut in a school production of High School Musical. It briefly explores his taking a backseat to LeBron James when the superstar returns from Miami, but remember it was him who took the big shot in Game 7 to close out the Warriors. Irving seems happy, and he should be: the Cavs are poised to defend their NBA title in the Finals and Irving will play a big role in how far Cleveland can go.