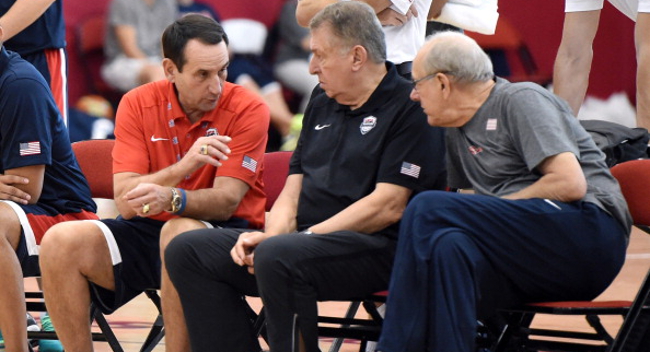 Mike Krzyzewski's name has been synonymous with USA Basketball since he took over as head coach in 2005 and, together with Jerry Colangelo, helped transform the Men's National Team back into the unstoppable global powerhouse it was always meant to be. His tenure will come to an end after this summer's Rio Olympics, but a recent health scare has Colangelo weighing his options for a possible replacement if, for whatever reason, the legendary Duke coach is unexpectedly unable to make the trip next August.
Krzyzewski is scheduled to have a knee replacement surgery once the season ends, and earlier this month, he reportedly spent two days in the heart ward of a Durham-area hospital. The details are sketchy, but in a recent interview, Colangelo admitted that he's at least considered the possibility of someone other than Coach K leading Team USA this summer.
Here's the veteran decision maker courtesy of NBA.com's Scott Howard Cooper:
"We'll cross that bridge. Certainly in the back of my mind I'm thinking about what ifs. But it would be, I think, inappropriate and out of place to even discuss it."

Pressed if he has a plan in mind if Krzyzewski cannot coach in Rio, Colangelo said: "I think so. But, again, I think it's too early to get into that. As we get closer and it appears that there's a prospect that he may not be able to or chooses not to, that's a whole different story. But let's not be premature on that."
Spurs coach Gregg Popovich was named as Krzyzewski's successor starting in 2017, so he's certainly one option if worse comes to worst, but Colangelo could also choose from among current USA assistants Jim Boeheim, Tom Thibodeau, or Monty Williams.
(Via NBA.com)