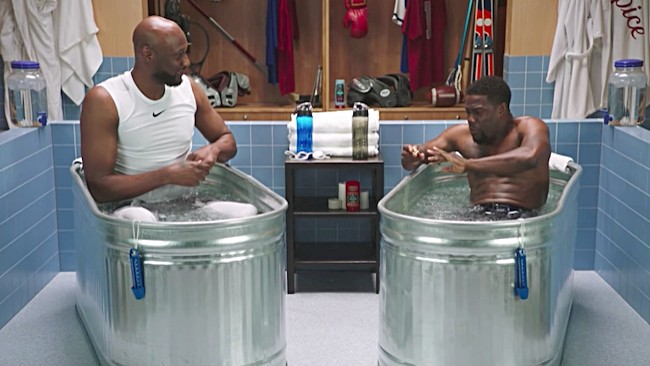 Kevin Hart is getting used to sitting in ice water just in time for Cold as Balls to drop its second season. The first episode of the Laugh Out Loud interview show's second season hit the internet on Tuesday, and Hart has a whole new lineup of sports figures to grill in the cold after the success of the show's first few episodes.
Cold as Balls features Hart welcoming a guest onto a set designed to look like a locker room. The pair then get into ice tubs before an interview commences, with Hart riffing on answers from participants like LaVar Ball and Blake Griffin. It's led to some viral moments and plenty of quotes that spread around the sports world.
The show's debut episode, featuring a shirtless LaVar talking about his sons, was viewed by more than 10 million people. The six-episode run of the show had more than 80 million views on YouTube, enough to make Laugh Out Loud Network order a second season.
"I'm looking forward to jumping back in the ice bath," Hart said in a release. "It was amazing to see the overwhelming response and massive viewership from the first season."

The first episode of Season 2 features Lamar Odom hopping in a tub next to Hart, leading to a conversation that dives into Odom's basketball career, past troubles, and health problems — Odom reveals in the interview he had 12 strokes and six heart attacks while in a coma in 2015.
Cold as Balls is an interview show first and foremost, but working with Hart allows it to also have minor riffs and characters, which will continue in the show's second season. Back again are the Ice Boys, which add ice to tubs when someone gets a question wrong during a portion of the show. White Hand is also back to hand things to Hart, who usually has something awkward to say in response.
For a show sponsored by brands like Old Spice and Mountain Dew, it's also surprisingly self-aware and introspective. The Odom episode dealt with his substance abuse issues and subsequent health scares, for instance. It's touching, but Hart also finds moments to make things light. When Odom asked if Hart smoked marijuana, for example, Hart put on a wry smile but said no.
"Kevin Hart is a family brand," Hart said, still smiling before he asked the camera to shake a "no" for him.
Though Hart is not an athlete himself, the show focuses on sports stars and relies on Hart's knowledge and relationship with the athletes to get compelling interviews out of them.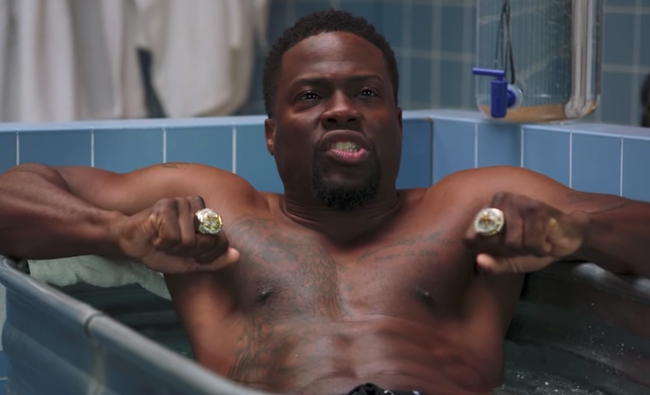 Cold as Balls executive producer Michael D. Ratner has worked with athletes like Griffin in the past. His production company, OBB, made it a point to do things like this as the market for sports entertainment has exploded over the last 18 months. While Griffin is an NBA star who enjoys hopping on stage to do stand-up and isn't afraid of the camera, shows like Cold as Balls and Hot Ones on YouTube have given other athletes a chance to show off different, lesser-known sides of their personality.
"It's really cool that we live in that space, specifically in our sports business," Ratner says. "We're able to lean into that and create alongside some of the most incredible talent out there to make really cool content."
Ratner pointed to the success of Uncle Drew, which essentially turned a Pepsi commercial into a feature-length movie starring Boston Celtics guard Kyrie Irving and other NBA players. The success the movie had, both at the box office and among some critics, is a bit of a referendum on the kind of space in which shows like Cold as Balls operate.
"I was rooting for that movie through and through, I enjoyed it and then to see how well it did was phenomenal," Ratner says. "It shows that we're on something really cool here."
Odell Beckham Jr., Johnny Manziel, Isaiah Thomas and Metta World Peace are scheduled to appear in the show's second season. Even Skip Bayless is supposed to show up, which should give Hart a chance to perform his best Shannon Sharpe impression. If anything, we will finally get a chance to see if Hart gets comfortable enough to garner a third season of soaking in the cold.