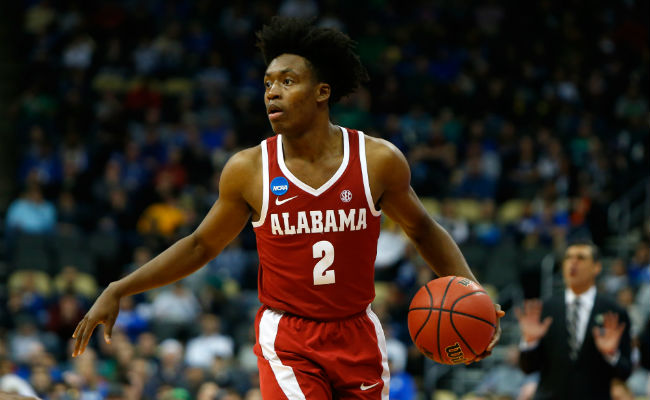 Alabama's Collin Sexton is headed for the lottery. A projected top 10 pick in 2018, the Crimson Tide freshman announced on Friday that he would leave Alabama and enter this summer's Draft.
Sexton, a 6-foot-3, 190 pound guard from Atlanta is expected to be one of the first guards taken in June. He averaged 19.2 points per game as a freshman and was Alabama's first All-American since Richard Hendrix (2008).
Sexton averaged 19.2 points per game as a freshman last season and became the Crimson Tide's first All-American since Richard Hendrix in 2008. On Friday, he thanked the University and the team an announced he was ready to move on.
https://twitter.com/AlabamaMBB/status/982273739130744833
The Crimson Tide's 2017-18 season ended in the Men's NCAA Basketball Tournament's second round as the No. 9 seed fell to the eventual champion, Villanova. They went 20-16 on the season. Crimson Tide head coach Avery Johnson had high praise for the departing freshman.
Here's are some of his highlights from his freshman year, including in the NCAA Tournament.
Though not known for incredible size or being particularly efficient as a freshman, Sexton is thought to have all the tools a modern point guard in the NBA needs. Our latest mock draft had Sexton taken 12th overall just behind Kevin Knox, who is still weighing his decision to return to Kentucky or jump into the Draft.