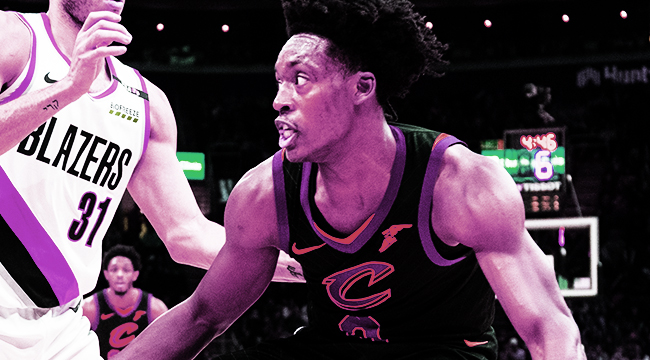 In the locker room after a recent win over the Milwaukee Bucks, one in which he became the first rookie since Tim Duncan to score at least 23 points in seven straight games, Collin Sexton looks relaxed. He's dressed head to toe in an all-black, team-issued sweatsuit, and is slipping on a pair of burgundy Air Max 1s with rainbow lettering on the front of the tongue. He is a model of comfort, both in his choice of fashion and overall demeanor. He welcomes the waiting media scrum, one of the largest he's garnered all season, with the sheepish smile of a 20-year-old.
This version of Collin Sexton took a while to emerge. The Cavs selection of the former Alabama point guard at No. 8 overall in the 2018 NBA Draft was met with immediate scrutiny, both because of a style of play that was reminiscent of a bygone era of basketball and because of owner Dan Gilbert's rumored involvement in his addition to the team. And for much of the first half of the season, those fears were justified.
Before the All-Star break, Sexton averaged 15.1 points per game on just 40 percent shooting from the field. His shot chart looked like something from the early 2000s, filled with a maddening amount of midrange jumpers, sometimes just steps in from the 3-point line, and just 2.7 attempts from beyond the arc per game. His inability to finish at the rim, something that hounded him at Alabama, traveled with him to the NBA. Too often, Sexton used his elite speed to race by his defender off the dribble, only to have little to no plan once he arrived at the hoop. Without Kevin Love in the lineup, the Cavs offensive spacing suffered, as did the team's record.
Off the court, Sexton was solemn. A quiet kid by nature, this was more than that. He rarely smiled. He gave quick, short answers to questions. Whereas fellow rookie point guard Trae Young was bombing away from 3, earning nicknames like Ice Trae and making appearances on Inside The NBA, and Luka Doncic was nearly voted to the All-Star Game by the fans, no one really knew who Sexton was, exactly, either on or off the court. All we had was a preconceived nickname and a viral video of him staring down an opponent in high school. Much like his game, Sexton was hard to define.
Since the All-Star break, Sexton has been almost unrecognizable, like that friend whose had a beard his entire adult life only to one day shave it off without warning. His field goal percentage has climbed nearly 10 percentage points. He's taking almost six 3's per game now, and shooting 45 percent from deep, including 47 percent in the month of March. He's averaging 20.5 points per game, and his shot chart would have Daryl Morey swooning.
"He's taking steps in the right direction," said Tristan Thompson. "Obviously he's put up the scoring numbers. He's taking the three-ball now, where early in the year he was taking the midrange. Now he's confident in his three-point shot which has spaced out the floor so much for him, and I think that's helped him be able to get to the rim more."
Kevin Love's return to the lineup has played a major part in Sexton's development, too, and helped the Cavs offense as a whole. When both Love and Sexton are on the court together, the Cavs take nearly 40 percent of their shots from the perimeter, and shoot 37 percent on said shots, per Cleaning the Glass. When Sexton plays without Love, which is admittedly a much larger sample size, those numbers plummet. The Cavs take just 28.7 percent of their shots from deep when Sexton doesn't have the veteran forward alongside, and they make just 35 percent of those attempts. Love's ability to space the floor has opened up lanes for Sexton that didn't previously exist. It's also allowed Sexton to get better at moving without the ball in his hands, and relocate for open 3's. 68 percent of Sexton's made 3's this season have come via the assist, per Cleaning The Glass.
It is somewhat astounding to watch Sexton's transformation happen so quickly, especially on a team that bottomed out before the season was even halfway over. That isn't exactly the environment for a rookie to acquiesce to a complete overhaul of his game. But to Sexton's credit, and to the team's, the point guard has taken criticism about as well as you could ask for.
"My teammates, they scream and yell at me for pump faking and taking a one-dribble and shooting midrange," Sexton said with a smile. "They scream and yell at me. So I was like, I might as well start shooting (3's). I practice on it, might as well shoot it."
In many close games during the first half of the season, Cavs head coach Larry Drew would yank Sexton in the waning minutes of the 4th quarter. Now, Sexton has become a staple of the lineups that close the game on the floor.
"I think failure can be one of the best teaching tools," Drew said. "Early in the season, when he was on the bench watching, to go through that. He's really starting to turn a corner, he's really starting to figure it out. I want him to continue to learn, to learn how to play the position, to learn how to be a leader, to learn how to get his teammates involved. Just continue to learn the game. He's the only player on our team that hasn't missed a game. He's a warrior."
Despite his improvements on the offensive end, Sexton is far from the path of an All-Star. He remains a sieve on defense, sitting dead last out of all NBA point guards in ESPN's Real Plus/Minus statistic. The Cavs defensive rating drops from 116 to 107.9 when Sexton sits. He still averages less than three assists per night, though his potential assists per game is up to 5.6, per NBA.com. The uncertainty around what kind of player he'll become has led Cavs brass to tell ESPN's Zach Lowe that they're unsure what sort of perimeter players would be best to pair Sexton with moving forward.
Yet changing the conversation from "this is a disaster" to "hey we just might have something here" might be Sexton's greatest feat, and that weight that was crushing his shoulders as he struggled has been all but removed. He gives longer, more thoughtful answers to reporter's questions. He smiles more. When he was told that he'd accomplished something that Tim Duncan had, he murmured "that's what's up" in a such a genuine way that it made you remember that he's still just a wide-eyed kid. He even linked up with Baron Davis to throw axes for a piece on Inside the NBA, some of the first national media attention he's gotten all season.
"I've always been confident," Sexton said. "I've always had the next game mentality. (Dealing with the struggles) is difficult, but, you have to just take it on the head and keep it going."
The reporters dissipate, and the locker room is quiet. But Sexton isn't ready to go yet. He sits back down in the chair in front of his locker and stretches out. He helps a reporter pick their Final Four for the upcoming NCAA tournament. For once, Collin Sexton is finally comfortable.