Virtually everyone agrees that the Dallas Mavericks have a potentially excellent two-man core. Luka Doncic claimed the 2018-19 NBA Rookie of the Year award by a wide margin, and the 20-year-old is already a budding star. Midway through Doncic's maiden voyage in the league, the Mavericks executed a trade deadline deal to acquire Kristaps Porzingis. After a lengthy layoff in an attempt to rehabilitate his knee injury, the talented big man got a max contract from the team and is expected to suit up for the 2019-20 campaign.
However, things get dicey in a hurry when perusing the depth chart for the Mavericks, and with expectations rising in some circles, it is important to maintain a rational baseline.
While NBA growth isn't always linear, it is reasonable to expect Doncic to improve, even after a tremendous rookie season. Players don't average 21.2 points, 7.8 rebounds, and six assists per game by accident and, if Doncic is willing to work hard on improving his body, the sky is the limit in terms of stardom. Beyond that, though, Porzingis is more of a question mark than some project, with the former New York Knicks standout having not played in a game since February of 2018.
Even if Porzingis is back at full strength as expected, a layoff of that length is no small thing, and the track record of health and durability for players his size is checkered. Porzingis fits snugly with Doncic as a player who can finish near the rim while stretching the defense offensively, and at his best, Porzingis can also be a top-tier defender. The lack of relative "safety" in the projection for 2019-20 is noteworthy, however, and that makes the uncertainty with the rest of the roster all the more glaring.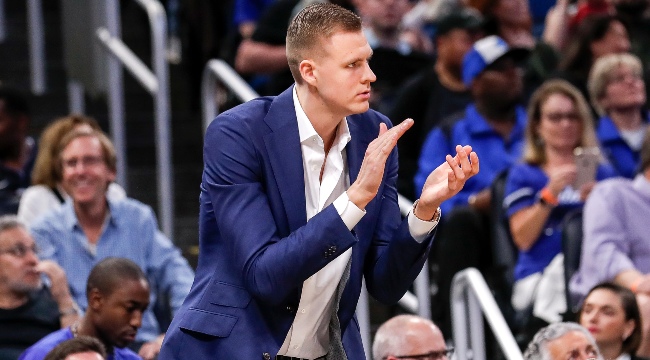 On one hand, the Mavericks produced 33 victories without Porzingis last season and had the net rating of a 38-win team. Pencil in traditional growth from Doncic, a top-flight contributor in Porzingis, and intriguing additions like Delon Wright and Seth Curry, and having optimism about the team makes sense. A deeper look, though, indicates that Dallas might not have the clearest path to Western Conference success in the near term.
The West is absolutely loaded, with a bevy of projected playoff teams and stiff competition from up-and-comers like the Sacramento Kings and New Orleans Pelicans. It might be fair to suggest that a Doncic-Porzingis pairing would rival most squads in terms of star power, but with Porzingis anything but a certainty, the Mavs' depth comes into question, which reveals some potential holes. While the additions of Wright, Curry, and Boban Marjanovic are interesting, the Mavericks received more than 6,000 minutes worth of contributions from Harrison Barnes, DeAndre Jordan, Wesley Matthews, Dennis Smith Jr., and Dirk Nowitzki last season. Some of those players were long gone by April, but at any rate, their season-long contributions shouldn't be ignored.
The Mavericks do project to have a healthy, rotation-caliber wing returning in Tim Hardaway Jr., as the former Michigan guard came to Dallas as part of the Porzingis deal. Hardaway is best when pegged as a supporting scorer, though, and he certainly has his faults. Wright brings a strong element as another perimeter creator and, alongside Doncic, the fit should be solid if — and it's a big if — Wright is able to convert regularly from beyond the three-point arc. That isn't an issue in the slightest for Curry, but there are still concerns with him on both ends of the floor. He's not a dynamic off-ball creator, and defensively, a Doncic-Curry pairing could be rough.
While Wright and Curry fit well and provide strong rotational options for head coach Rick Carlisle, they aren't alone in supporting Doncic and Porzingis. Dallas does have intriguing players like Maxi Kleber and Dwight Powell in the frontcourt, both of whom enter 2019-20 with newly-minted contracts. Dorian Finney-Smith brings a solid reputation as a 3-and-D wing and, if anything, he is underrated. Jalen Brunson, a 2018 second-round draft pick, could also help the Mavericks as a steady hand at the backup point guard spot. In short, the Mavericks do have NBA-caliber options.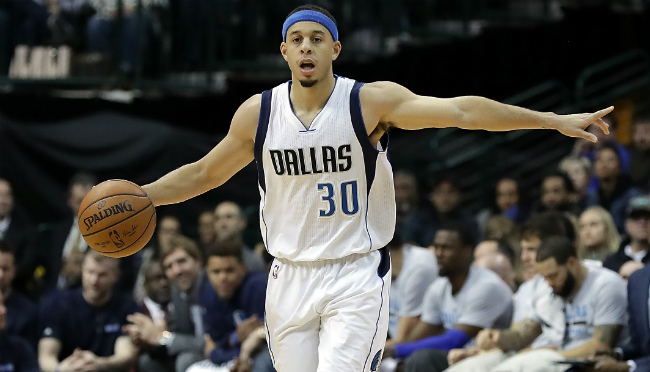 With that said, the options aren't overwhelming. There isn't a clear-cut third option in Dallas. In truth, players like Hardaway, Curry, and Wright, for all that they do well, probably shouldn't be fourth (or even fifth) options on a playoff-bound team in the Western Conference. Some of that drop-off will be mitigated if the Doncic-Porzingis pairing touches the heights of which it is capable, but it is reasonable to project that they won't be able to do that right away. They can absolutely get to that point, even if there are growing pains in the short-term.
Dallas entered this summer with apparent hopes of making a splash in free agency, but were unable to land an All-Star, leading to them spending their money on putting together a perfectly fine cast around their two youngsters. Still, it might take a herculean effort from Doncic, plus Porzingis being at 100 percent and rust-free, to sniff the .500 mark when dealing with the grueling schedule of any West contender.
It helps to be well-coached, and the Mavericks still have that in spades with Rick Carlisle. It helps to have Luka Doncic and Kristaps Porzingis. It helps to have good supporting pieces who are reasonably young and can improve, especially when littered on a roster that has a dozen NBA-caliber options. For 2019-20 only, though, the hype train might be off the tracks for Dallas in some circles and a slower, steadier climb might be more appropriate to predict, even if the future is bright with a young, talented two-man core.