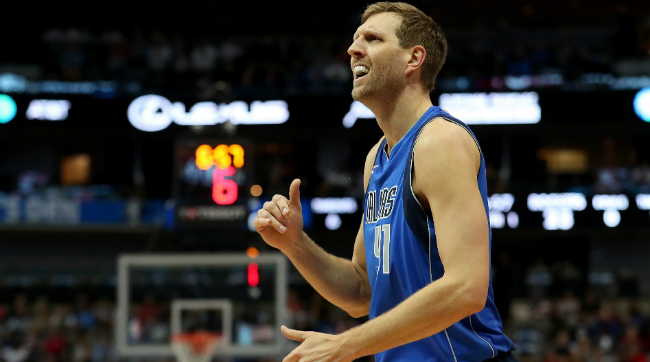 The Dallas Mavericks are just barely above the cellar of the Western Conference. The team sits at 17-36 on the season, good for 14th in the conference and only a half game above the last-place Sacramento Kings. Things aren't much better when you look at the Mavs in relation to the rest of the league, as the team is one game above the last-place Atlanta Hawks and Orlando Magic.
Dallas is the kind of team that can afford to blow it all up as they try to position themselves for a high pick in the 2018 NBA Draft, assuming the organization believes a playoff run is off the table. It has a defined core, but outside of that, it has a bunch of players who Eddie Sefko of SportsDay writes are available.
According to Sefko, Dallas has three players who are completely off the table. One is their leading scorer, one is their point guard who is the future of the organization, and one is the team legend who is going to retire a Maverick. Other than that, Dallas is willing to move anyone.
It comes down to price points. The Mavericks would part with any number of players not named Dennis Smith Jr., Dirk Nowitzki or Harrison Barnes if the return was good enough. A first-round pick or even a high second-rounder would be enticing.

But the landscape of the league is such that those assets aren't being tossed around frivolously.

That last thing is important, and is a common thread that has seemed to pop up during this trade season: There are more teams looking to sell than there are looking to buy. So for a team like Dallas that would want to get assets back for players who aren't part of the organization's long-term future, it makes finding the right move difficult.
Regardless, this report makes it sound like Dallas is one of the teams that could be active during the period before the trade deadline. Of course, teams have to be interested in negotiating with them, which Sefko says might be an issue.
All may be quiet on the Mavs' front now, but they still have a few days to figure out if they would want to make a move before Thursday at 3 p.m.