Yogi Ferrell, the newly minted Mavericks point guard who has been lighting up the league since his signing in January, is set on making his NBA dream last. After graduating from Indiana University (with two Big 10 titles under his belt) and going undrafted, the 23 year-old was signed by the Brooklyn Nets, had a stint in the D-league with the Long Island, was given another shot with Brooklyn, and eventually landed a permanent slot with Dallas in January.
Ferrell signed a 2-year contract at the league minimum, was the third undrafted rookie in NBA history to have a 30-point game within his first 15 games in the league, took home Western Conference Rookie of the Month honors for February, and is currently averaging 10.7 PPG off of 42.7 percent shooting for March.
The former Hoosier recently returned to where his NBA dream began to face off against the Nets on their home turf, where he helped his team secure a much-needed 111-104 win with 8 points, 3 steals, and 5 assists in 22 minutes of play. UPROXX caught up with Yogi at the NBA's spacious 5th Avenue Store where he took time to serve as a surprise guest cashier and play a few rounds of Pop-A-Shot with young fans.
In between fan interactions, chiming in about the age-old Raising Cane's vs. Popeye's battle, and why he prefers Texas over New York City, Ferrell made one thing perfectly clear: he's not about to waste this latest opportunity for a long-term NBA career.
Note: This interview has been lightly condensed and edited for clarity.
You had a successful career at Indiana, graduated, then had a bit of a journey to the league with your stint with Brooklyn and then some time in the D-League. Did you learn anything from that? What was that process like for you as far as battling to get here?
I went to a great school in Indiana, had a great coach there, [and was] successful. We won. And I feel like that's what really prepared my for the next level. Just to stay with it, stay with it, stay with your abilities and to never doubt yourself. Never give up on yourself and just always be ready for that opportunity. So I didn't get drafted, went to Brooklyn training camp and felt like I could make the team, played for them just for a little bit and got waived. Went to the D-League. Stayed with it, stayed with the process, knew that my second opportunity was going to come so just making sure I was ready for it.
How does it feel being back in New York after your stint with Brooklyn? Is this a town you feel more comfortable playing in having that brief experience with them?
Yeah, yeah I think so. New York's a great city; sometimes it's just a little too much though. At times. I think I like the city of Dallas a lot better. More calm. Relaxed. One thing I like is having a car especially. That's the main thing. I still feel relaxed here, still have friends here with those D-League guys … out on Long Island. They were especially really happy for me to make that next leap so it'll be good to see those guys again.
One cool thing is that you broke out with the Mavs so you're playing with Dirk who, having just score his 30,000th point, is a legend by any standard. You've called him a "great teammate and a better friend," so what's that experience been to play alongside him?
He's a competitor, he's been through it all, he's seen and played a bunch of games. Won championships. Won playoff games. So he knows what winning looks like. And we're all going to listen to him when he says something because he knows what winning looks like and if we want to win and repeat that then we're going to do what he says especially. But he just wants to win, he competes he gets on us, and there's nothing more you can ask from a veteran guy than just him being a leader for us.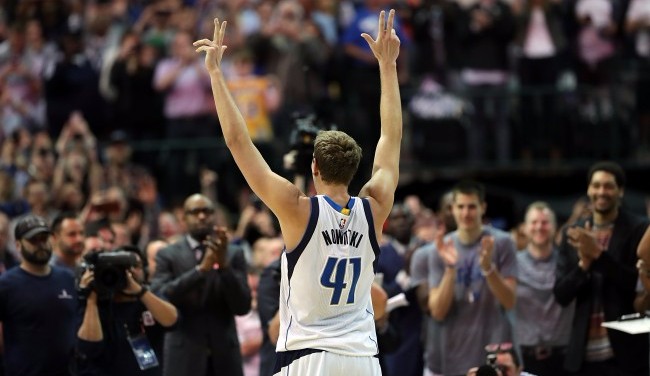 Has he told you anything about the game or your skills specifically that's really helped you've gotten into it over the last few months and gotten settled?
The main thing is just to be aggressive and attack. Obviously we play two different positions so it's not like he can say much but there are other veteran guys on the team, Devin (Harris) and J.J. (Barea), that have been talking to me and have been trying to lead me to the right direction and to know what a great point guard looks like.
You're coming off a [Western Conference] Rookie of the Month honor, and averaging great numbers so far, besides their influence and learning from them, what's been the best part of being on the Mavs so far?
The entire experience has just been great. It's been a whirlwind past couple of months for me, not getting drafted and everything now to this point, I feel like I've worked really hard for this and I'm not going to settle – but I am just going to enjoy the moment and enjoy the process. Know that there are going to be ups and downs especially with me being a rookie. So I just gotta stay with it and learn from my mistakes and just go out there and have fun.
Is there a favorite part of being in the league that's not on the court? Something that you didn't expect but something about being an NBA player that's cool?
I'd say the plane rides. [laughs] They're pretty …
Better than college bus rides?
A lot better than college bus rides and those commercial flights sometimes. These private planes, food, everything about that aspect. A lot of space! That's what I notice, got to have a lot of leg room especially.
With the regular season almost over you guys are pushing for the playoffs through this last stretch, you guys still have a shot and clearly want to do that for Dirk. Do you have any specific goals for your play as you go into this last stretch or next season?
Not necessarily. Right now the only goal for myself is just doing what I can to go out there and help our team win. Which is ultimately going to get us to our team goal of trying to make it to the playoffs. Obviously not having a great start, now we've got something to do to make history so I feel like if we can accomplish that it will be something great for our team, great for Dirk, and something that's just great for the city.
Speaking of the city, recently you did a fan meet and greet at Raising Cane's. Do you have an opinion on the age-old Raising Cane's versus Popeye's debate that is getting fired up again recently? Or another favorite?
I'll be honest Raising Cane's is kind of growing on me. A little bit. They've got that sauce that's unbeatable. If they didn't have that sauce than it probably wouldn't be as great as they are, but they do have that.
Last thing, Indiana let Tom Crean go [recently]. You talked with Chris Mannix already about what he was like as a leader for you and as an influence, but looking ahead is there anything you want the university and the guys coming up on that team to focus on during this coaching search and as they move forward?
The main thing especially is don't listen to the outside noise, don't listen to the media or the fans. Just listen to the guys that are inside the locker room, those are the guys you can really count on when it comes down to it. They're going to have a bullseye on their back — especially being Indiana. A great program and a winning program. So they can't settle every single night because people are going to come at you. So if they just stay together and stay true to themselves, they'll be winning.