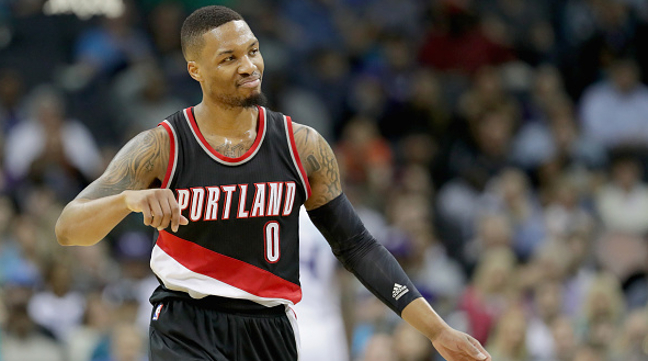 On the court, Damian Lillard is an All-Star-caliber point guard who can get buckets as well as any player in the league. Lillard and C.J. McCollum make for the most prolific scoring backcourt in the NBA, but off the court, Lillard is as comfortable in the recording booth as he is with a ball in his hands.
We've seen plenty of basketball players try their hand at making a rap album over the years, with varying success, and Lillard is among the best of them, rapping under the name Dame D.O.L.L.A. His first album, "The Letter O," was well received, and this summer he's working on his sophomore album. ESPN's Chris Haynes recently spent some time with Lillard in the studio to discuss his love of music and the process of creating an album.
Lillard will spend 12 hours per day in the studio, listening to hundreds of beats, and when one piques his interest, he'll jot down lyrics on his phone and hop in the booth to record. Lillard's process isn't the only thing of note in the piece, as Haynes also reveals those who are dropping by with advice or assistance for Lillard's new album.

While we don't know what their exact roles are in helping out with the album, Haynes notes that Lil Wayne and producer Scott Storch are among those supporting him, while Too Short dropped by the studio to help him pick out beats.
"Yeah, it's just been a lot of traffic [in the studio]," Lillard says. "People heard the first album and they respected it. I'm pretty sure they can feel the vibe of this next one and it's going to be better than the first one. So, we're going to get into it. I've been on the phone with other artists to make it big."
Whether just offering advice or collaborating on songs, it's a significant stamp of approval for Lillard to be co-signed by some legends in the game. Like Lillard, Too Short is an Oakland native, while Wayne, at his peak, was arguably the best rap artist for a number of years. Storch has created legendary beats over the years, and he also is the star of one of the greatest Instagram videos of all time.
I sincerely hope he popped into the studio to lay down some tracks for Dame, all the while having his hair cut by his barber. Whatever the level of input those legends and others have had on Lillard's album, it's impressive for a star athlete to be able to earn the respect of those in the industry.
Lillard has said he wants adidas to hook him up with Kanye West for a track, but Wayne, Storch, and Too Short are a pretty good start even if Yeezy isn't involved yet. We'll have to be patient as Lillard is a perfectionist and plans to take his time putting together this album, but after his first effort and the support he's receiving for this one, it figures to be a worthwhile wait.