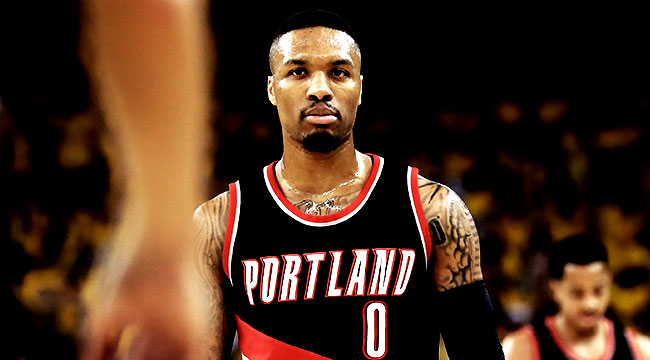 The NBA is the role model for sports leagues around the nation and the world. Now more than ever, the league possesses incredibly mature, smart, and original star players who are encouraged to show their personalities. Players like LeBron James have come from humble beginnings to become superstars that not only give back, but openly discuss topics outside of the gym. Many players have an open dialogue with fans, create their own side hustles and diminish the idea that they're unreachable to the public. They, just like us, have hobbies, goals, dreams, and aspirations, and we know this because they've allowed us in more than ever before.
Take Damian Lillard, the Portland Trail Blazers star guard who's already released his fourth adidas signature shoe, his second album, and has become one of the most well-respected players in the game today. Coming from Brookfield, a small community in Oakland, Lillard was raised playing basketball on telephone pole backboards and milk crate hoops.
A two-star high school athlete, Lillard played at Weber State University, a mid-major school not known for it's basketball success. Despite the lack of national awareness at Weber State, Lillard would thrive in Ogden, Utah and play three seasons with the Wildcats, averaging close to 25 points and becoming the Big Sky Player of the Year.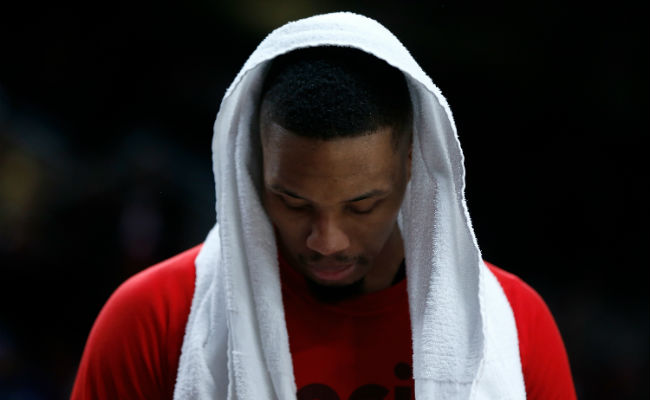 With the sixth pick in the 2012 NBA Draft, The Portland Trail Blazers selected Lillard with many not knowing who he was or what he could become. The pick was scrutinized by many, and people assumed he couldn't play point guard.
In an article with Bleacher Report back in 2012, Grant Hughes said this about Lillard's draft stock.
"For starters, he'll probably have to play a lot of shooting guard in the NBA because he's a poor passer and lacks the court vision a player of his size (6'3″, 189 pounds) should have. Despite an astronomically high usage rate, Lillard only averaged four assists per game.

So, Lillard lacks the skills to be a point guard, and he lacks the size needed to play the 2. He's a one dimensional, undersized scoring guard.

The experts have spoken, as well. ESPN's John Hollinger has Lillard slotted as a mid-to late first-rounder. With the no. 7 pick, the Warriors must stay clear of Lillard and his high bust potential."
Many had the same feelings about Lillard, but once he arrived in Portland, that bust label was quickly removed (and probably regretted). Lillard went on to become the only rookie to have 20 points and 10 assists in their first game joining Oscar Robertson and Isiah Thomas while also taking home the Rookie of the Year award with a unanimous decision. Portland's team looked to be on the rise and Lillard was clearly a step ahead of where anyone thought he'd be. The following season, however, he vaulted into a position no one (except himself) would think he'd be in.
As a second-year player, Lillard made the All-Star team in a deep Western Conference. Fast forward to the postseason of that 2013-2014 season and with 0.9 seconds left, Lillard hit a game-winning shot against Houston that took the city of Portland to a place it hadn't been since 2000: the second-round of the playoffs.
https://www.youtube.com/watch?v=mejFtEY5faU
Since that moment, Lillard has continued to improve and grow as a player while becoming the leader and face of the Portland Trail Blazers.
"His ability to lead everyone while staying true to who he is and what he stands for is special," teammate C.J. McCollum told DIME. "Obviously, he's a great player but he hasn't let success change his foundation and that's what makes him special."
Off the court, he's given back to the community by running summer picnics in his hometown, raising money for hurricane relief funds, hosting summer camps, and frequently engaging with his fans across the world. His family, along with his external support system, have been selective and creative with their approach to his success. His #4BarFriday campaign where anyone, anywhere can post a video of them rapping or singing four bars, has promoted many individuals and helped people who may not get the platform, an opportunity to showcase their abilities to Lillard's following.
Lillard's work-ethic can be compared to guys like Kobe Bryant and Michael Jordan. In the book Unstoppable by Dave Anderson, there's an excerpt from Phil Beckner (Lillard's trainer for eight years) about a time they went on the road in the offseason.
"We leave China to fly to Paris (a 12-hour flight) and land at 7:30 AM in Paris. Dame takes two National Basketball Association (NBA) balls with him on the flight and keeps them in the compartment above his seat. Upon landing, he opens the cabinet and asks, "When are we working out?" We went right to the hotel and then to the gym. He worked out, and had the best workout of the journey. He made 85 percent of his shots. He didn't want to rest or wait; he wanted to work."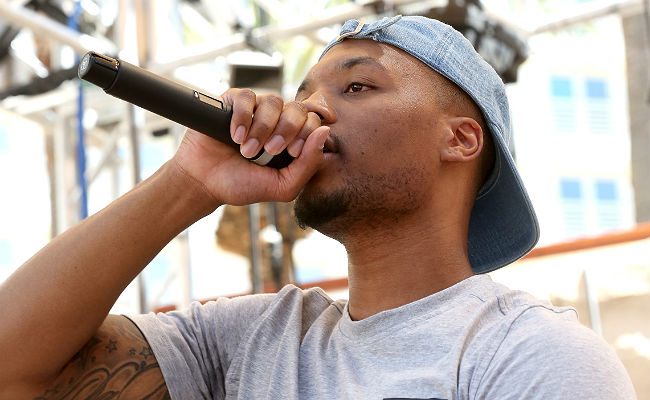 Lillard's latest music project and album, Confirmed, was released during the Blazers' preseason game against the Toronto Raptors on Oct. 5. However, after the game, instead of immediately going home or to celebrate (as most would do), Lillard opted to talk to local teachers in Portland to discuss how they can inspire and teach their students.
Nate Jones is Lillard's agent, and had this to say about his client (and friend):
The fact that no one knew he was doing it makes it a testament to who Lillard is as a person. While he speaks on many different subjects publicly, behind the scenes he's doing more than many know.
"What separates him is he has belief," his cousin and rap label counterpart, Brookfield Duece told DIME. "He is willing to do what most won't for the things he's dreamed of."
Growing up playing with his cousins and family that were two, three, four, and five years older than him, Lillard learned to bulk up quickly and learn from others' mistakes both on and off the floor. Instead of playing kids his size and age, he'd rather learn to play with player's older than him because it was tougher competition.


This molded Lillard into that guy you see today, the player who, pound-for-pound, is one of the best in the game.
"I've never been around someone who has so much will," NBA veteran and teammate Evan Turner told DIME. "He makes you believe that there is nothing he can't do. Which is why he's able to put out a dope album and get buckets."
Lillard's latest album (under his record label Front Page Music) features the likes of 2Chainz, Lil Wayne, BJ The Chicago Kid, and his cousin, Brookfield Duece. On the heels of his recent shoe drop with adidas, Lillard just continues to give us reasons to believe players should be given more rest, not less.