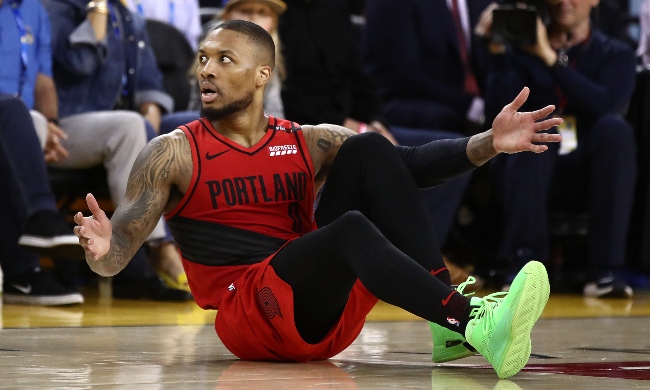 One of the major storylines of the Western Conference Finals has been the subpar performance of Damian Lillard. The Portland Trail Blazers' superstar guard has not been himself against the Golden State Warriors, averaging 20.3 points on 32.9 percent shooting from the field against the two-time defending champions. As it turns out, there might be a reason why he's struggled, at least for the last game and a half.
According to Shams Charania of The Athletic, Lillard is playing through separated ribs, an injury that he suffered in Game 2 of the series.

The exact moment he suffered the injury was pinpointed by Sam Amick of The Athletic. Lillard dove for a loose ball during Game 2, at which point all 6'9 and 220 pounds of Warriors center Kevon Looney fell on him. Lillard was in obvious pain after it happened, holding his left side as he walked off the court, but managed to stay in the game and finish it out.
It goes without saying, but the uphill battle that is beating the Warriors becomes exponentially harder if an injury has Lillard nowhere near close to 100 percent. He's the kind of guy who will leave it all out on the floor, and while his effort certainly won't be questioned during Game 4 on Monday, his limited effectiveness due to the injury may be the death knell for the Blazers' hopes of pulling off an improbable comeback.