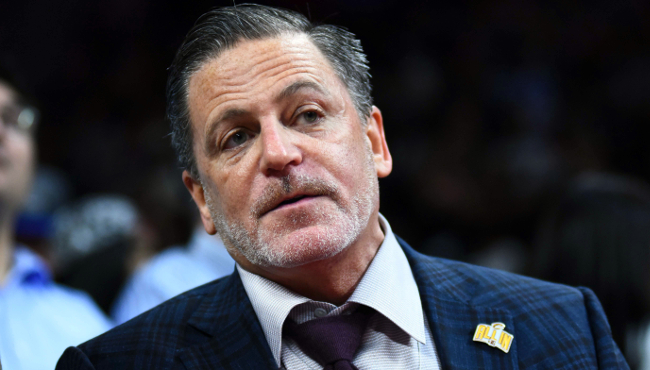 As Donald Trump has inserted himself into the sports world, plenty of players have pushed back against the president's efforts to critique or demean them via social media. We've seen players in the NFL and NBA fire back at Trump over his anti-protest stance and his efforts to control the narrative when the Warriors, and Steph Curry in particular, made it clear they had no interest in visiting The White House as NBA champs.
In the latter case, LeBron James came to the defense of Curry and went after Trump on Twitter, calling him a "bum" and explaining that you can't revoke someone's invite after they've already declined. This isn't the first time James has criticized Trump, but it apparently created more outrage than it had in the past.
Cavaliers owner Dan Gilbert, whose company Quicken Loans supported Trump's inauguration although he himself offered donations to Hillary Clinton and Chris Christie's campaigns, found himself receiving voicemails and messages in response to LeBron's tweet and found the content of those messages stunning.

As Gilbert told Squawk Box on CNBC (via ESPN), he received tons of messages that shocked him by the level of racism that still exists in 2017.
"I received voicemails after LeBron tweeted that were some of the most vile, disgusting, racist [messages]," Gilbert said Friday. "There's an element of racism that I didn't even realize existed in this country this much.

"The thing is, I mean, some of the most disgusting things I've ever heard people say," Gilbert said. "And you could hear it in their voice — the racism. It wasn't even really about the issue, and that's what really got me, because they went to who they really are, some of them."
It speaks to how insulated so many are to the divide over race, when the events in Charlottesville and elsewhere over the past year have not alerted them to the fact that racism is still a significant problem in this country. Gilbert needed to receive the messages personally to have his eyes opened to those issues, much like those around the NFL needed Trump to attack their players for them to react and realize the problem with his rhetoric over the past year.
The ability of those people to turn away from obvious problems because "they don't affect me" is the epitome of privilege, and it takes a direct confrontation with those issues to prove their existence. If nothing else, this year has brought to light a lot of those problems and issues that were formerly lingering just under the surface for so many, making them easy to ignore. Now they're out in the open and people have to confront them on a more regular basis, which has been the goal of all the protests so many have reviled. The question is whether Gilbert will learn from this or, as so many have, consider it a unique occurrence, failing to put the pieces together and see the severity and widespread nature of racism. Hopefully, it's the former.