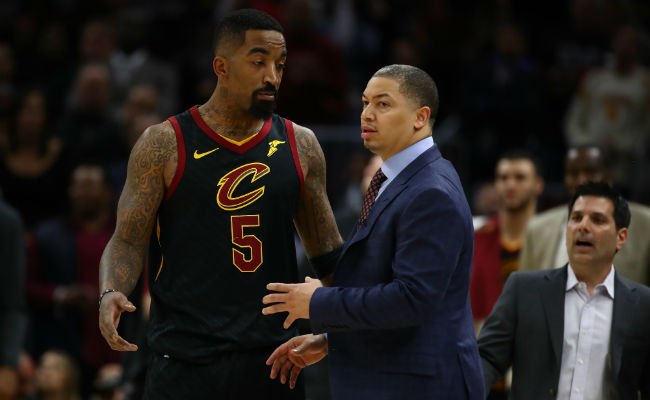 It's a bit too obvious to say that the Cleveland Cavaliers have had an interesting season. Things were so weird that the roster was essentially scattered to the four winds by February in what could be LeBron James' final season in Cleveland.
The retooled Cavaliers, though, are back in the Eastern Conference Finals and ready to take on a Boston Celtics team that has done some juggling of its own this season. While just a handful of players are left on the Cavaliers roster from opening night, Boston has seen two major stars go down with season-ending injuries to Kyrie Irving and Gordon Hayward.
Cavaliers coach Tyronn Lue spoke to the versatility needed to survive a season like the Cavaliers have had before Sunday's Game 1. Lue said on Saturday that it was actually Cavaliers owner Dan Gilbert who encouraged the Cavs coach to switch things up this season and try to find a new spark with the team as it struggled.
"You have to try new things," Lue told the media. "It's funny because Dan Gilbert told me that a month or two into the season: 'You've got to try new things. Like, who cares? You have to try new things. If it works, you're a genius. If not, you can change it and do something else.'"
Some might worry that the owner is getting this involved in coaching decisions, though it doesn't seem like Lue is saying Gilbert demanded any specifics. Rather, it sounds like Lue appreciated that Gilbert was willing to see the team struggle at times in order to work out its collective kinks.
Luckily for Cleveland, the one constant the Cavs have had this year is still there: LeBron James. With him on the roster, there's always a chance things will work themselves out.