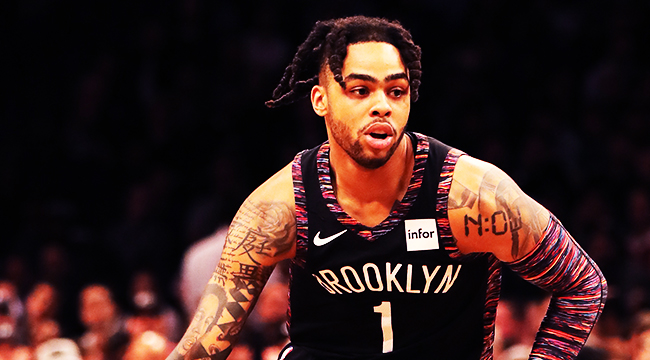 For the third time in his young career, D'Angelo Russell is spending his summer preparing to join a new team. The former No. 2 overall pick with the Lakers was dealt after two years in Los Angeles to the Brooklyn Nets, where he blossomed into an All-Star last year before entering his first free agency summer as a restricted free agent.
When the Nets agreed to a deal with Kyrie Irving to replace Russell at point guard, it was time for Russell to really open up his free agency search, as he could effectively operate as an unrestricted player. Joining Irving in Brooklyn was Kevin Durant, which opened up a unique opportunity for Russell to sign a max contract and join the otherwise capped-out Warriors by way of a sign-and-trade. It was a move that stunned many, particularly given the presence of Stephen Curry and Klay Thompson on max deals in the backcourt, but Russell and the Warriors clearly see a fit.
Steve Kerr brushed aside concerns that Russell, Curry, and Thompson may be an odd fit together when asked about it at USA Basketball camp, as did Klay Thompson, who called Russell a "budding superstar" in an interview with Rachel Nichols of ESPN. It's clear the Russell signing has the full support of the locker room, but we still haven't heard much from the man himself about how that decision came about and why he's also not concerned about the fit.
We got the chance to talk with Russell last week via Foot Locker and Nike, as he partners with them on the We Live Sneakers campaign. Russell talked with Dime about his brief taste of free agency, the crazy summer in the NBA, why he's not worried about fit in Golden State, and why he feels ready to contribute to another playoff run for the Warriors.

Obviously it's been a pretty eventful summer for you and the league as a whole, how has the last month been as you make another move?
Yeah, it was definitely a crazy offseason for me and the NBA, but I think that's what the league's all about. All the excitement, new faces, and new opportunities.
What was the free agency process like for you and how did you come to the decision that Golden State was the place you wanted to be?
It was a fun process going through it for the first time. Golden State came out and into the light with the opportunity and the situation, and I just wanted to go to the best situation and I thought that's what it was at the end of the day.
The first reaction for many was to wonder how you'll fit into the backcourt once Klay is back. So I'll ask you that, how do you see yourself fitting in and what has the staff told you about how they see your role with the team?
I'm sure it will work out pretty well, it's a bunch of good basketball players trying to figure it out. I think that's the beauty of starting over with a new group of guys, but I haven't really talked to the Warriors on a consistent basis on how it's going to be but I'm sure it'll be fine. I mean, they have more than enough coaching and more than enough players to make it work, and I'm excited for it.
How excited are you to play somewhere where, at least from the outside, it seems players are given a lot of creative freedom offensively?
It's fun. Like you said, you know the Warriors are going to put guys in the best position to succeed. I look forward to doing that and being me as much as I can on the court.


You're going to a place where championships are the goal. What did you learn from last year's playoff experience that you feel you can take with you to a place where the expectation is to make deep playoff runs?
Man, just getting a taste of it, that's all you can ask for. So many players in the NBA don't get a taste of what the playoffs is, so I think that's a true blessing just to get that alone. To go to this caliber of team where, like you said, they expect nothing less than a good run in the playoffs, I think the sky is the limit and I'm looking forward to stepping up to the plate.
You're partnered with Foot Locker and Nike for the We Live Sneakers campaign. How did you get involved with that and what are your thoughts on the three Evolution of the Swoosh sneakers being released along with it?
I give Foot Locker a lot of credit, they do a great job of coming up with these creative ideas and collabs and stuff. With the shoes, there's definitely a historic collection they got going on with the Air Maxes, specifically. I'm a sneakerhead in general, so I think it's going to turn out really cool.
What's been your personal evolution as a sneakerhead and what are your favorite sneakers in your collection?
The evolution has been constantly evolving. Growing up I didn't really care about shoes, but basketball started opening up doors for me and shoes started to make its way to me and I've loved them ever since. I was a guy that didn't really care too much about shoes and now I try to get two and three pairs of each shoe to try and keep up with the quality of the shoes. I do remember that first day of school feeling, you know, wearing that new pair of Air Forces or Air Maxes and what not, and just that feeling where you couldn't wait to put together your outfit and have shoes no one else had on.