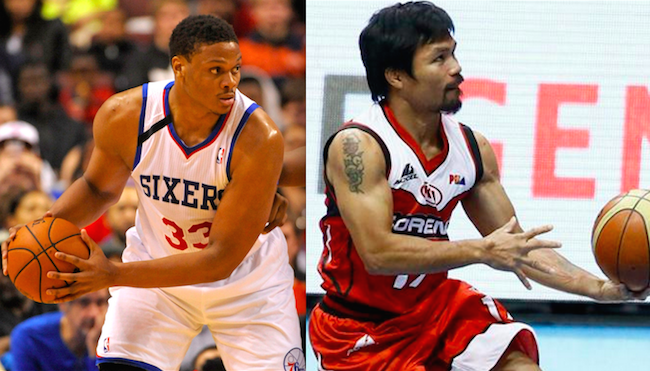 They love Manny Pacquiao in the Philippines. And if you don't, then get the hell out! Or at least that's what the local professional basketball league – in which the boxing legend serves as player-coach for the Kia Carnival squad – seems to think.
After facing Pacquaio on the hardwood for the first time last week, former Philadelphia 76ers and Oklahoma City Thunder big man Daniel Orton ridiculed the 5-6 lefty's talent level.
"Professional boxer, yeah, okay… professional basketball player, no. It's a joke," Orton said, according to Yahoo Sports.
The Philippines Basketball Association acted swiftly and aggressively to discipline the 24 year-old.
"This office disapproves of and frowns upon the cavalier manner in which Mr Orton issued his comments and the unwarranted antics and liberties he has taken with the league and a fellow player," PBA commissioner Chito Salud said in a statement.

"This insulting behaviour will never be condoned by this league."
A top official of the Purefoods Hotshots, Orton's former club, compared Pacquiao to Martin Luther King, Jr. to describe just how offensive locals found the University of Kentucky product's comments.
"Everyone is angry at him… it is like he went to the United States and insulted the name of Martin Luther King," Rene Pardo said.
Orton, meanwhile, didn't seem too upset at his abrupt banishment from Pacquiao's league.
His reaction is understandable. Who would want to play in a place where criticism of an opponent would be met with such a response? It's not like the 6-10 behemoth will struggle to find other playing opportunities, either.
Then there's the fact that Orton's assessment seems fair at the very least. Pacquiao is a wonderful boxer, but success in the ring hardly translates to the court. Case in point:
[Yahoo] [Video via TheAztecRuler]