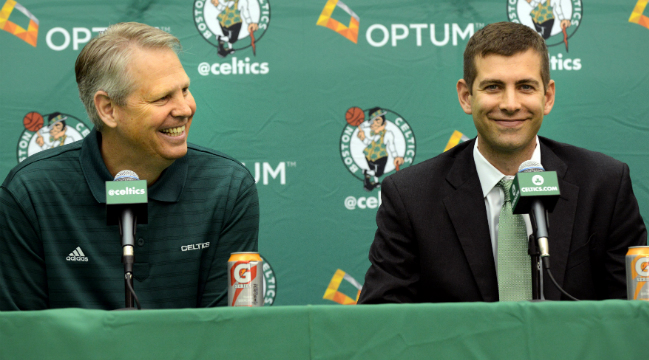 Thursday marks the one-year anniversary of the Kyrie Irving trade becoming official. While the announcement of the deal celebrated its birthday eight days ago, you might remember that things were in a state of limbo for more than a week in the aftermath. Eventually, after several days of negotiating, the Boston Celtics tacked on an additional second-round pick, and things became official.
The rumbling at the time was that the Cleveland Cavaliers were leery about making the move after looking at Isaiah Thomas' injured hip, but things ultimately were able to be worked out in the end. As it turns out, though, Danny Ainge had some skepticism over that happening.
Ainge spoke to Chris Forsberg of ESPN regarding the deal, and in retrospect, the Celtics' President of Basketball Operations let it be known that even he got concerned at times, and wasn't considering this a sure thing until everything was finalized.

"It's like you're a real estate agent and someone has agreed to buy your house, but until the papers are signed and the bank is on board, the sale doesn't go through," Ainge said. "And that's sort of how it is after you make any deal in our league. It's never done until it's done."
The trade could not have worked out much better for Boston — Irving was fantastic in his first year prior to going down with an injury, while the only player that went to Cleveland who will suit up for the Cavs next season is Ante Zizic. Still, it would have been fascinating to have gone down the path of "the trade falls through and everything goes back to square one," one which Ainge apparently thought was a possible outcome for the two sides.
(Via ESPN)