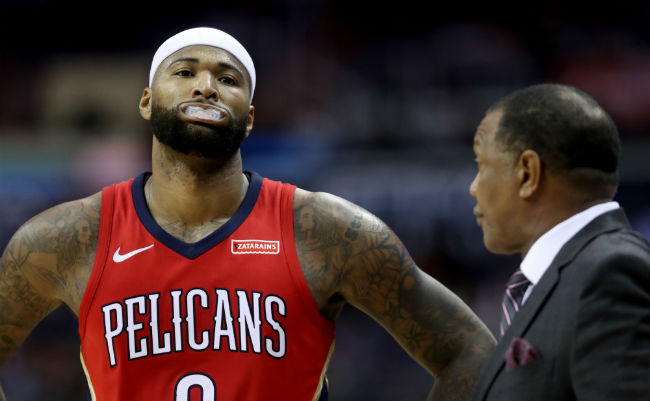 There are plenty of concerns about how he'll bounce back from a torn achilles, but if he's healthy, the thought of DeMarcus Cousins suiting up for the Golden State Warriors is absolutely terrifying. Cousins is arguably the best center on earth, and in terms of pure talent, the lineup the Warriors could trot out of Steph Curry, Klay Thompson, Kevin Durant, Draymond Green, and Boogie might be unparalleled in NBA history.
In the eyes of Daryl Morey, though, that potential amount of talent might come at the expense of making sure all of the pieces fit together. Morey revealed during his appearance on The Dan Patrick Show that he's not 100 percent sure that, on paper, Cousins on the Warriors will work. Head to the 25:26 mark to hear it from Morey, with the transcription below via Yahoo Sports.
I was really curious. I mean, you know, Bobby [Warriors general manager Bob Myers] is really good at his job, and he likes to take smart gambles, like I do. So I understood the move. But, uh, it's going to be interesting. I mean, they're obviously — Coach [Steve] Kerr is one of the best, too. It's a little scary. They'll probably figure out how to make it work, but it's a little bit hard on paper to figure out how to make it work. But we do that well, and so do they. They're going to be a tough out again, obviously. They're arguably the best team in NBA history. They're on their path to maybe be able to make that argument.

Morey doesn't seem like he's putting forth a slight against the Warriors as much as he's saying that most teams would struggle at incorporating Cousins onto a team that already has so much talent. But like Morey says, Golden State has a track record of adding superstars and finding ways to make it work, and while there might only be one ball, they're good enough at spreading the love that Cousins will be happy if he's able to take the floor.
It's well-documented that Morey is obsessed with figuring out exactly how to take down the Warriors en route to getting a championship, and earlier this summer, Cousins became potentially one gigantic additional problem he'll need to solve.