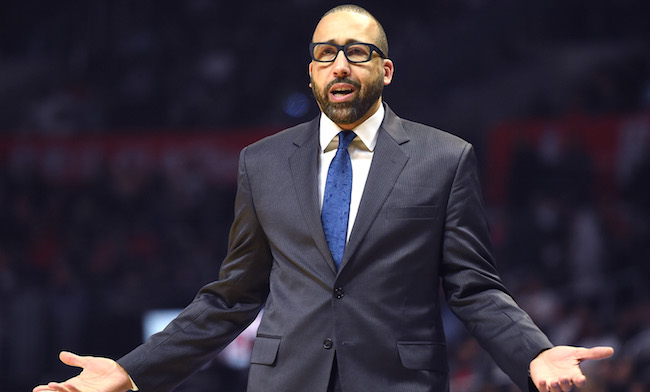 David Fizdale was unceremoniously fired earlier this season in the midst of an 8-game losing streak by Memphis. The news of the firing was shocking to most around the league, with many of Fizdale's former players being unhappy with the Grizzlies' decision.
There are plenty of reasons for the Grizzlies' struggles beyond the head coach, like star point guard Mike Conley being out with an Achilles injury that is still lingering. The official language used by Memphis was that they determined it was best to let Fizdale go in order to "save the season," but the underlying issue, which the Grizzlies even acknowledged as a "small role," was tension between Fizdale and star center Marc Gasol.
Gasol insisted he didn't push for Fizdale to be fired, but the Grizzlies confirming those battles did play a role don't help the optics. To his credit, Fizdale has taken the high road in statements, as well as on Wednesday in his first appearance since his firing on ESPN's The Jump. Fizdale was asked about the issues with Gasol and his feelings on his firing, and diplomatically shrugged it off as just something that happens in the NBA.

"That's the league," Fizdale said. "The best player and the coach aren't always going to get along. That's just how it goes sometimes. [Tracy McGrady] was the best player on teams and I'm sure he didn't always love his coach. It's just unfortunate circumstances how it all played out on the stage, but that's normal stuff. Whether we like each other or not, it's not about that. It's about winning games and that's about us working hard together to get Ws."
The conversation then turned to the Thunder, where Billy Donovan finds himself in a different position than Fizdale found himself in while in Memphis, but a familiar spot for the former Heat assistant in trying to piece together a roster of stars.
Fizdale explained how Miami dealt with similar complaints about Erik Spoelstra in the Big Three's first season together, and then Rachel Nichols asked him how important it is for a coach to have the support of the front office and entire organization when needing to be forceful with a star player, like Pat Riley handled things in Miami.

"Oh, for sure," Fizdale said. "You have to have a full organizational support from that standpoint. You just do. We understand this is a player's league. I'm not naive to that. I don't think any coach, I don't think Billy's naive to that. But if he has that support, so if a player does feel that disgruntled and feels like he can go over him to get things done, then he's going to lose that battle. But if the organization tells that player go back in that locker room, shut up, and listen to the coach. That's going to send a big message to 'em."
They were careful to note this wasn't about his experience in Memphis, but it's clear that it also speaks to that issue as well. Whether Gasol went above him or not, the front office was aware of their issues and chose Gasol's side, whether by request or not.
In any case, that tells you Fizdale didn't have that support and it's one of the main reasons he finds himself back on the job hunt.