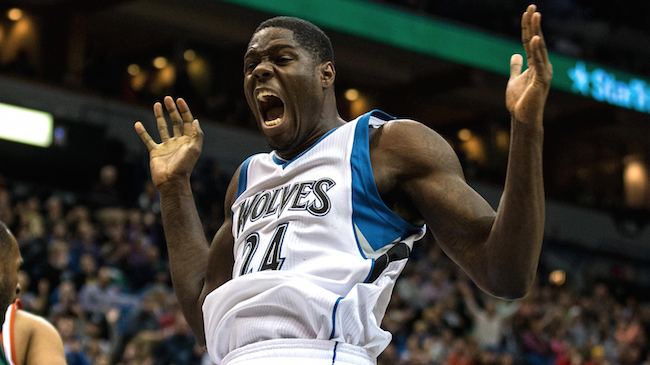 The 2013 NBA Draft seems like a lifetime ago, especially if you're the Cleveland Cavaliers. Since then, LeBron James came back home, took his team to three straight Finals, and handed the city its first championship in more than 50 years.
At the time, the outlook wasn't so rosy. Though they had a fledgling star in Kyrie Irving, they were a perpetual lottery team. And before former GM David Griffin made a name for himself as one of the savviest executives in the league, he was part of a front office that made some high-profile flubs.
The organization's decision to Anthony Bennett with the No. 1 pick in 2013 was chief among them, and it's something he's had to come to terms with over the years, even if GM Chris Grant took the brunt of the blame. Here's what Griffin had to say about that pick and why Bennett didn't work out in the NBA in Jason Lloyd's new book, The Blueprint: LeBron James, Cleveland's Deliverance and the Making of the Modern NBA.

Transcript via The Athletic:
"The issue with Anthony was, and we had no way of knowing it at the time, the kid had no desire to overcome adversity whatsoever. As soon as it was hard, he was out," (David) Griffin said. "His whole life, he rolled out of bed bigger, better, and more talented than everybody else. As soon as it was hard, it was over. And I was the one on campus at UNLV. I'm the one who got sold the bill of goods and I bought it hook, line, and sinker. You f*ck up sometimes. But I feel bad Chris took it for that, because Chris was the one guy who wasn't sure."
Grant (the Chris he is referring to) was the lone dissenter in the vote to use their No. 1 pick to select Bennett. Bennett, of course, ended up being part of the package the Cavs put together to acquire Kevin Love after LeBron announced his return to Cleveland, and since then, he's bounced around to a few teams before finding his way out of the league entirely.
It's clear there's still a sour taste in everyone's mouth surrounding Bennett, but it bears remembering that the 2013 Draft was very strange indeed. Nerlens Noel, who was projected to go No. 1 overall before his injury, fell all the way to No. 6. And who could have predicted the meteoric rise of guys like Giannis Antetokounmpo and C.J. McCollum?
It was an extremely weak class overall, and Griffin put it best when he said sometimes you just f*ck up.