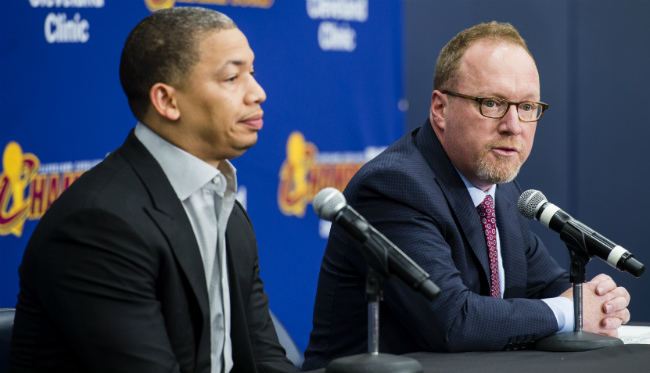 Tyronn Lue has only been a head coach with LeBron James on his roster. That's all going to change during the 2018-19 campaign, as the best player in the world is in Los Angeles and Lue is now tasked with getting the James-less Cavaliers back to the postseason.
It's a tall task, as Cleveland has only made the playoffs 13 times in the 37 years James hasn't been on the team. The good news for the Cavs, though, is that the guy who hired Lue thinks he's in for a big year.
Former Cleveland general manager David Griffin appeared on the Wine and Gold Talk podcast and gave a full endorsement to Lue, saying that he believes the Cavs coach is "going to be the best version of himself he's ever been."

"Seeing him be on the court again in sweats, on the floor and working with guards and we have been able to see that now in terms of the Instagram and all those things, T-Lue is going to be the best version of himself he's ever been," Griffin said. "When you have that in the form of a guy who is that good out of timeouts yeah I think you can be a six, seven or eight seed and a really difficult out (in the playoffs). If you're a six it's not a given that three beats you."
Griffin went on to say that "there isn't a championship without him," alluding to the fact that Lue took over in January of 2016, following the firing of David Blatt, and led the team to the first ring in franchise history. Lue has been a pretty frequent punching bag over the last few years, with the joke being that James has been the one actually pulling the strings for the Cavs. Now that he's gone, Lue will get the opportunity to possibly change that narrative, and by the sounds of it, Griffin expects that to happen.
(Via Cleveland.com)