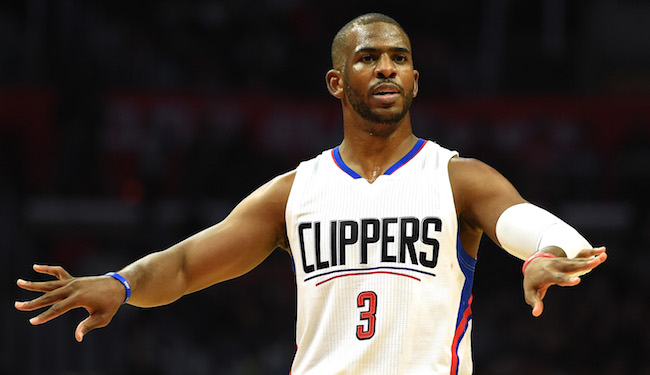 In 2011, Chris Paul was dealt by the New Orleans Hornets to the Los Angeles Clippers for Eric Gordon, Chris Kaman, Al-Farouq Aminu, and a 2012 first-round pick. The deal set up the Clippers to make six consecutive playoff appearances, while the Hornets — now the Pelicans — reset to eventually build around Anthony Davis, who they took in the 2012 draft.
While that trade had a significant impact on both teams involved, the deal is better known for the other Los Angeles team, which thought they had a deal in place to land Paul a week prior. The Lakers' offer for Paul, which also involved the Rockets, was rejected by the Hornets which were being run at the time by the NBA and then-commissioner David Stern.
Stern has been reviled by Lakers fans ever since who felt that the league was in the wrong to reject their deal, but on a recent podcast appearance with "Nunyo & Company", Stern put the blame on former Lakers GM Mitch Kupchak for Paul not ending up a Laker because he "panicked" when the initial offer fell through and didn't allow the league to restructure the trade as Stern felt they could have.

"In the course of the weekend, we thought we could redo the deal," Stern said. "We really thought that Houston would be ready to part with [Kyle] Lowry, and we had a trade lined up for Odom that would have gotten us a good first-round draft pick. Not we, but my basketball folks.

"But Mitch Kupchak at the time panicked and moved Odom to Dallas. So the piece wasn't even there for us to play with at the time. So that was it — just about what was good for the then-New Orleans Hornets."
Stern's assertion is that, had the Lakers been willing to wait a bit longer, they could've had Paul so long as the Hornets were able to continue working on the third party deal with Houston and still get Odom in order to flip him for another draft pick. Instead, the Lakers moved Odom to Dallas and the Hornets took the deal with Gordon and an unprotected first rounder from the Clippers.
Since the trade happened, the Clippers have become L.A.'s best team, while the Lakers have been forced into a rebuild. The Paul trade could have been the bridge between the Kobe era and whatever comes next, but instead they've had to dig to the bottom, with three straight years picking No. 2 in the NBA Draft in hopes of building assets that can either become stars or be flipped into stars in the future.
This probably won't ease Lakers fans anger about the failed trade, but at least now we have a more concrete idea of what happened from Stern and the NBA's point of view.
(h/t ESPN for the transcription)