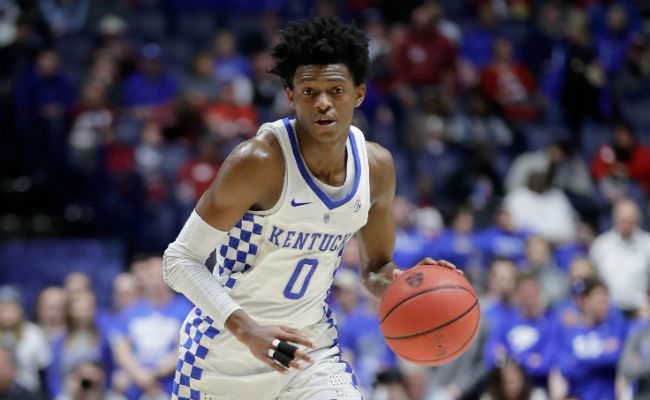 De'Aaron Fox is likely to be in direct competition with Lonzo Ball for the foreseeable future. It wouldn't be the first time, as he admitted he's used Lonzo's loud father as motivation to beat his son on the floor.
Fox said that, much like the rest of the world, he hadn't heard of LaVar Ball until he started making outrageous claims about Lonzo's talent and started promoting his Big Baller Brand. Once he became the biggest mouth in basketball, Fox said it was easy to use his words as motivation on the court.
Fox told Andrew Sharp of Sports Illustrated that he was surprised LaVar got so much attention as Lonzo became a lottery pick in next week's NBA Draft.

"In the last year, he became relevant for some reason," Fox said. "When I knew Lonzo in high school, I'd never seen his dad before. He went crazy this year. I guess when your son a lottery pick, that gives you a lot of confidence."
Fox's Wildcats met Lonzo's UCLA squad in the Sweet 16 in this year's NCAA Tournament, and the result was a big win for Fox—a 39-point outing that got the Internet to roasting the Big Baller Brand patriarch on social media. Fox admitted that sticking it to LaVar Ball was definitely part of his motivation in that game.
"Kill mode all the time," Fox says of his mindset before the UCLA game in the tournament.

Fox had a different take his thought process months later: "Shut LaVar Ball up."
The next step in Fox's Humiliate LaVar Ball Tour would be to get taken second overall by the Los Angeles Lakers. There's been some buzz in recent days that Lonzo didn't blow LA away at his draft workout, and Fox and fellow projected top-5 pick Josh Jackson worked out for the Lakers earlier this week. Fox has said in the past he thinks he could wind up in LA, and it would certainly upset LaVar, who wants all three of his sons to play for the Lakers.
Pissing off LaVar Ball seems to be pretty great motivation for Fox so far, but it's up to the Lakers themselves to take the Kentucky standout to the next level in his campaign of disdain.