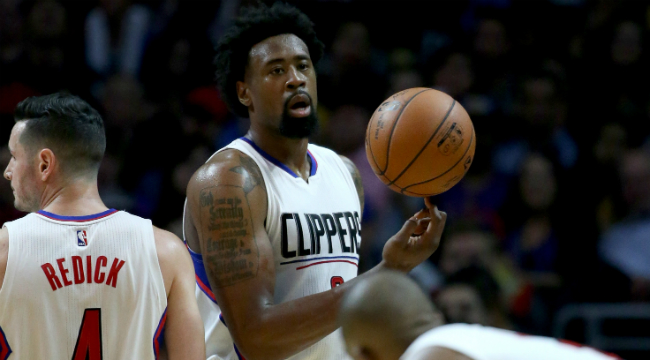 DeAndre Jordan is an Olympian, but has never taken part in an NBA All-Star Game. Over the past three seasons, the center has averaged about 12 points and 14 rebounds per game, but has yet to receive the call to spend a weekend somewhere with Kevin Hart.
In a very "I'm not mad, you're mad, I'm actually laughing" interview with ESPN's Ramona Shelburne, Jordan says he doesn't even care about being an All-Star anymore because centers are getting screwed in what is becoming a guard-oriented league.
"We'll never be extinct, even though there's no more 'centers' in the NBA … just call me a forward when you introduce me against starting lineups."

"I think this [Olympics] is way bigger than any of that. I think making first-team All-NBA is way bigger than any of that," Jordan said. "When I was younger I used to care [about not making the All-Star team.]. But now it doesn't matter as much to me. As long as I have the respect of my peers, that's all that matters."
Looking over the NBA All-Star rosters the past three years, there are definitely more F/Cs than Cs, but Joakim Noah, Roy Hibbert, Dwight Howard, Andre Drummond, Marc Gasol and DeMarcus Cousins have all participated at least once since 2014.
But Jordan isn't mad. He doesn't even care. It's not a big deal to him, really. He's laughing about it now.
(ESPN)