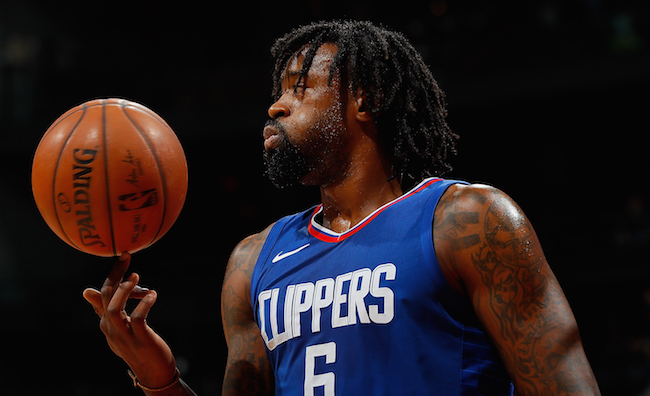 The Clippers snapped their 9-game losing streak with a much-needed win in Atlanta on Wednesday night (the Hawks are very giving in that capacity this year). However, with Patrick Beverley out for the season, Milos Teodosic still out for an unspecified amount of time, and an offensive unit that's fallen to among the league's worst during their losing streak, there are plenty of longterm concerns for L.A.
Among them is whether they need to shake things up with their roster. After trading Chris Paul to the Rockets and seeing J.J. Redick walk to Philly in free agency, the Clippers' backcourt was in desperate need of retooling. They turned to Beverley and Teodosic to do so, but their injuries have left L.A. with significant holes at the point guard position. That, in turn, has an effect on their star frontcourt of Blake Griffin and DeAndre Jordan, with the latter seeing the biggest impact of not having a strong passer or pick-and-roll partner.
Jordan, who was never an offensive star, is having his worst offensive season since 2012-13, when he was playing just under 25 minutes per game. His productivity and efficiency are down in the absence of Chris Paul, which shouldn't come as much of a surprise considering their great chemistry in pick-and-rolls and Jordan's need for someone to tee him up for scoring opportunities.
With Jordan's relative struggles offensively and the Clippers struggles as a team, his name as started to pop up in trade rumors, with "multiple teams" reportedly having preliminary discussions with L.A. about the possibility of nabbing the star center. The biggest problem in trying to make a trade for Jordan is his contract. Jordan makes $22.6 million this year and has a player option worth just over $24 million next year. He also has a 15 percent trade kicker that a team dealing for him would have to deal with as well.
That said, Jordan is a tremendous athlete, defensive presence, and a capable roll man and offensive rebounder who in the right situation could flourish. The question is what teams have players with the salaries to make a Jordan deal work and would be willing to give up the value the Clippers would want for him.

Below, you'll find four deals that the Clippers could explore, although you can certainly poke holes in any of them, and then the reasons why the other 25 teams don't really make any sense for a deal. If this exercise taught me anything, it's that the trade market for Jordan probably isn't all that robust and it will take someone valuing him an awful lot and having confidence in him re-signing to make something happen.
Clippers get: Wesley Matthews, Nerlens Noel, and Yogi Ferrell
Mavericks get: DeAndre Jordan, Brice Johnson
This is extra juicy because of the whole DeAndre Jordan-Mavericks free agency drama from a few years ago with Jordan locked in a house by the Clippers to convince him to come back, but it's also the trade that makes the most sense for everyone. Wesley Matthews simply hasn't worked in Dallas and has another year remaining on his deal. He's not part of their long-term plans, so they get out from under him and send L.A. point guard help in Yogi Ferrell and finally free Nerlens Noel from Rick Carlisle's dog house.
Because you're including Noel, this deal can't be done until December 15, but Noel alongside Griffin could be intriguing, Matthews and Ferrell give them some backcourt depth and the Mavs get a frontcourt piece to actually build around along with Dennis Smith Jr. Whether the Mavs and Clippers can put aside differences to make it happen remains to be seen, but this is the deal that makes the most sense that can be done. You'll see what I mean soon.
Clippers get: Tristan Thompson, Iman Shumpert, future draft pick
Cavs get: DeAndre Jordan
Like I said, things take a turn quickly. If the Clippers like the idea of pairing Thompson with Griffin (which, you could talk me into) maybe this interests them. Thompson will be a much cheaper option than Jordan and is locked up through 2020. Shumpert isn't good, but can bridge the gap some with regards to point guard play (pending his own knee soreness issues) and you'd have to think some kind of future draft pick enters the picture (although definitely not the Brooklyn pick).
For the Cavs, it would at least look like they're trying to fix defensive issues and maybe appease LeBron James' desire to win this year (although he likes Thompson, so who knows). They'd get out from under Shump's deal and, at worst, gain flexibility in the near future if everything blows up this offseason. I don't like this deal much at all, but it's really tough to make deals involving Jordan.

Clippers get: Bismack Biyombo, Elfrid Payton, Mario Hezonja, 2nd round pick
Magic get: DeAndre Jordan, Brice Johnson
I'm not sure either team does this deal, but it does work financially and maybe they talk themselves into it. Elfrid Payton's a restricted free agent this summer and gives the Clippers a chance to see if they like him going forward and if not, he's a cheap, solid one-year option at point guard. Hezonja Hill has been decimated and only I am still standing, but he's also a free agent this summer. Maybe you talk yourself into Biyombo returning to Toronto form alongside Griffin if you're the Clippers and throw a second round pick or two into the mix and you might be talking.
The Magic get out from under Biyombo's deal and while Jordan isn't a perfect fit, they could bump Vucevic to the second unit and try to shuffle around their rotation. Orlando's come back to reality after their fast start and might be looking to shake things up a bit. I don't like this trade but it's there.
Clippers get: John Henson, Mirza Teletovic, Malcolm Brogdon
Bucks get: DeAndre Jordan, Brice Johnson
I can already hear Bucks fans getting mad at me, but for the Clippers to do this deal Brogdon has to be involved. Adding Eric Bledsoe makes the reigning Rookie of the Year somewhat expendable, and if you want to go all in on a run this year you add Jordan as an upgrade over Henson and lean on Bledsoe and Dellevadova as your point guard rotation. Losing Teletovic takes away some three-point pop, which the Bucks need, so there are plenty of reasons for Milwaukee to say no here.
There are also reasons for the Clippers to say no, chiefly the long-term money owed to Henson and Teletovic, but Brogdon is an intriguing young piece. Again, there aren't a lot of good trades out there.
That's about it. I ran down every other team in the NBA trying to find trades for Jordan that make even marginal sense for each team and couldn't really find any. You can find those explanations below.

Atlanta: Lack of desirable pieces (only big contracts have 3+ years remaining) and lack of motivation for Atlanta to give up young assets or draft picks.
Boston: Not giving up Horford/Hayward/Irving in a deal and otherwise it can't be done.
Brooklyn: Similar issues to Atlanta. Deal could be made but Nets can't send much in the way of point guard help with their own issues there.
Charlotte: Clippers wouldn't want Dwight Howard, everyone else is on long-term potentially ill-advised deals.
Chicago: See Atlanta reasoning.
Denver: Has Nikola Jokic.
Detroit: Has Andre Drummond.
Golden State: Has Draymond Green.
Houston: Only contract that works is Ryan Anderson which is massive, and there's a general lack of pieces to entice L.A. Also I'd rather have Clint Capela on his deal than DeAndre Jordan on his if I'm Houston.
Indiana: Has Myles Turner.
L.A. Lakers: I tried to make this work. I really did, but nothing makes sense. Brook Lopez's deal matches up but makes no sense. Clippers have no reason to take Luol Deng's contract, and then you're left with Jordan Clarkson + Corey Brewer + Julius Randle which makes almost no sense for the Clippers. Randle and Griffin together doesn't seem like a recipe for success.
Memphis: Has Marc Gasol.
Miami: Has Hassan Whiteside.
Minnesota: Has Karl-Anthony Towns.
New Orleans: Has Anthony Davis and DeMarcus Cousins.

New York: Only money that makes it work is Kanter or Noah and with the lack of other assets in New York beyond untouchables in Porzingis and (probably at this point) Ntilikina, I can't see how this works.
Oklahoma City: Jordan for Steven Adams works and maybe the Thunder go all-in on this year and want to just have a weird All-Star unit, but I just don't see them doing it.
Philadelphia: Has Joel Embiid.
Phoenix: Greg Monroe and a young guy? Would Phoenix want to even give up a young asset for Jordan. I don't like this for Phoenix or L.A.
Portland: Damian Lillard seems to really love Jusuf Nurkic, who's much cheaper right now and all the players that make money work don't make any sense for the Clippers. Harkless-Leonard-Vonleh? Turner-Davis? Turner-Aminu? None of this seems appealing for the Clippers.
Sacramento: I love Willie Cauley-Stein and the Kings should too. They already have a frontcourt logjam and money is really hard to make work in a desirable deal.
San Antonio: It's nearly impossible to make money work here, because I can't see the Clippers wanting Pau.
Toronto: Valanciunas + C.J. Miles is the only way the money works and that's not very palatable for the Clippers with both with 3 years left on their deals.
Utah: Has Rudy Gobert.
Washington: No way the Clippers want Ian Mahinmi's contract and from there it's extremely difficult to make money work. Gortat + Morris + Frazier works, but does Washington do that? Probably not. Does L.A. do that? Probably not.