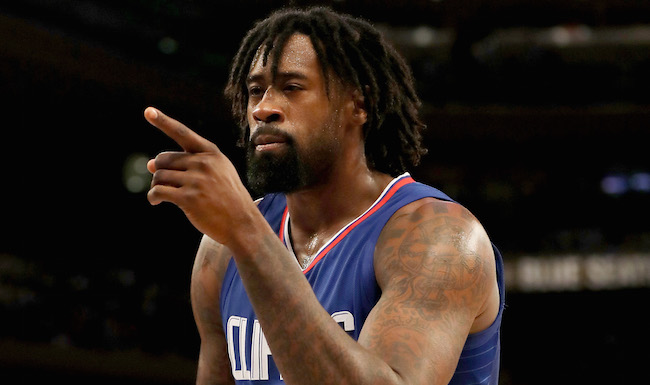 DeAndre Jordan is one of the top stars on the trade market as the Clippers are in position to shake things after an 8-14 start and with Blake Griffin, Patrick Beverley, Danilo Gallinari, and others sidelined with injuries.
With their playoff hopes slipping away with every loss and every game Griffin misses, the Clippers could choose to hit the reset button and try to rebuild around Griffin for his eventual return, with an eye towards the future. The only player on their roster worth much on the market is DeAndre Jordan, making him the expected odd man out in L.A. should they move forward with trade talks.
There are certainly sticking points with trading Jordan. For one, there aren't many teams that need him and many of the ones that may consider a deal don't have much ability to make an enticing package to match salary and provide assets to the Clippers. Making matters trickier is his looming free agency, either this coming summer or in 2019, depending on what he does with his player option.
The unknown of how long a player will be under team control always diminishes value, but with Jordan things were made even more complicated by him not having any representation after firing agent Dan Fegan over the entire debacle with Dallas back in 2015. Without an agent, there wasn't any real way of gauging Jordan's interest in staying somewhere long term, which makes teams nervous.

On Monday, ESPN's Adrian Wojnarowski reported Jordan had finally signed a new agent, which now gives teams at least some point of contact when it comes to trying to understand Jordan's thinking about the future.
Jordan, 29, has signed with Jeff Schwartz of Excel Sports Management, sources said, who will help navigate the processes expected to determine Jordan's future with the Clippers
With Schwartz alongside, trade talks (or extension talks with the Clippers) can truly begin in earnest, and we might hear more in the coming weeks than just minor grumblings about interest teams may have, as has been the case thus far.