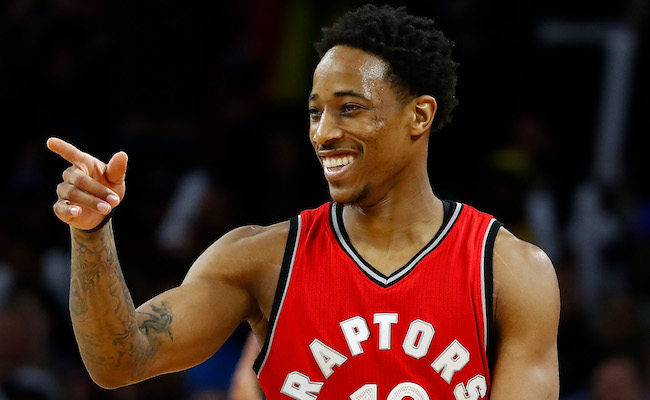 DeMar DeRozan's future with the San Antonio Spurs will be interesting to monitor, particularly when compared to his past with the Toronto Raptors. In fact, there has been quite a bit of attention paid to DeRozan's exit from his previous situation, where as the plight of his new squad hasn't been dissected to quite the same degree.
With that said, the Spurs have their own personnel dilemma, with future Hall of Fame shooting guard Manu Ginobili operating at the age when retirement is certainly looming. He hasn't yet committed to returning for another run but, in advance of training camp, DeRozan made his desires clear when it comes to having Ginobili alongside him on San Antonio's perimeter.
Frankly, it would have been jarring if DeRozan did not express a sentiment similar to this, simply because absolutely everyone loves Ginobili. Still, this is a situation where DeRozan is coming into unfamiliar territory and it would likely help ease his transition to have a player with the experience and talent of Ginobili.
Even if Ginobili elects to walk away into retirement, the Spurs are set up to be a strong playoff team and the presence of Gregg Popovich, LaMarcus Aldridge and others should assure that. Still, there is no way to argue against the league being more entertaining with Ginobili involved and fans even outside of San Antonio have their fingers crossed for his return.