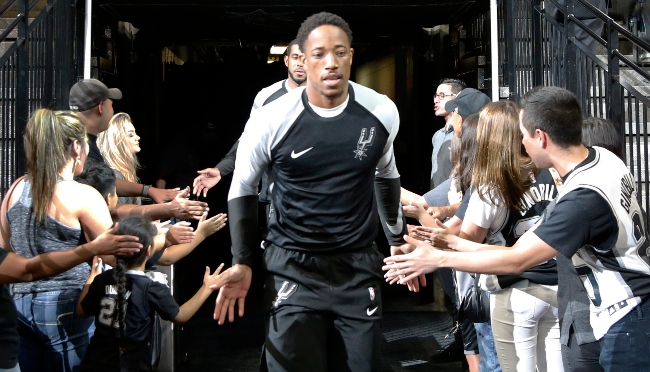 It's no secret that DeMar DeRozan was unhappy in the aftermath of his trade from the Toronto Raptors to the San Antonio Spurs. DeRozan had made it clear he wanted to spend his whole career north of the border, and yet when the opportunity to acquire Kawhi Leonard arose, the Raptors decided to part ways for the face of their franchise for the MVP-caliber forward.
Things have worked out pretty well for DeRozan so far in his new digs, as the Spurs are off to a 4-2 start to the year and he's fourth in the league in scoring at 28.3 points per game. The early returns are encouraging, even if the early returns on the trade left something to be desired for DeRozan.
That's because, as we learned in a new piece for ESPN by Michael C. Wright, DeRozan didn't hear for the Spurs until a few days after the trade, which led to some skepticism on the part of the All-NBA guard. However, when the organization got in touch, DeRozan explained that he received a series of reassurances from Gregg Popovich and R.C. Buford that he was their guy.

Via ESPN:
"Then, I had that first conversation with Pop (a few days after the trade), and it eased my nerves," DeRozan says. "Initially when I got traded, it was so crazy, so hectic. You didn't get any reassurances. You didn't hear nothing from nobody. Your mind is just wandering, wandering. All you know is this one dude didn't want to be somewhere, and now am I just a fill-in in a sense? You know what I mean? Like, damn. You're just thinking all types of ways.

"But when I talked to [Popovich], talked to R.C., it was such a reassurance of understanding, like, 'We didn't trade you. We traded for you.' Understanding, 'We want you. We want you here. We want you to be you. Don't worry about nothing. We're going to make the transition as easy as possible.' When you hear something from Pop like that, that's all you need to hear. You don't need to hear no whole story or nothing. That's all you needed to hear."
Hearing this from Popovich and Buford obviously helped DeRozan a ton in the days following the trade, and so far, it's helped spark what has been a torrid start to the year.