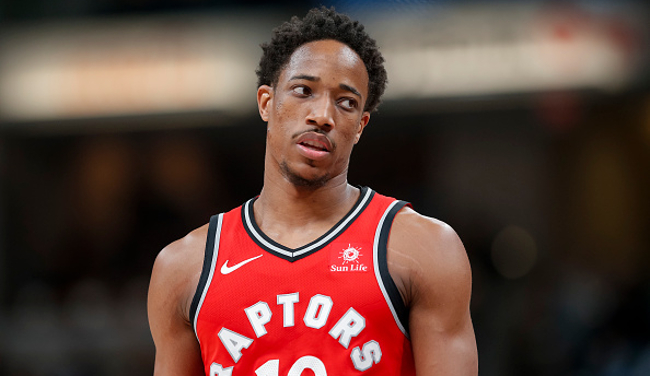 The Toronto Raptors' 11-game win streak came to end on Sunday afternoon at the hands of a feisty Oklahoma City Thunder team, and it was a contest that was most certainly not without its controversy. When all was said and done, three Raptors had been ejected, and there are likely fines forthcoming from the league for subsequent comments criticizing the officiating crew.
Serge Ibaka, DeMar DeRozan, and head coach Dwane Casey all got tossed in the waning moments (Kyle Lowry also fouled amid the upheaval) for their reactions to the way the officials called the game in crunch time, and upon closer inspection, they may very well have had legitimate qualms.
DeRozan was particularly upset about a no-call on a layup attempt with less than 30 seconds remaining that could've tied the game at 127-127. On the ensuing sequence, the Thunder would benefit from yet another no-call when Carmelo Anthony was able to poke away the inbounds pass intended for Pascal Siakim, which resulted in a turnover that essentially sealed the win for OKC.
https://www.youtube.com/watch?v=4QXMzCi-Y7U
Derozan earned a pair of technicals and a mandatory ejection after arguing with the refs, and he was quickly followed by Serge Ibaka. But it wasn't over yet. Casey continued to berate the referees after the Thunder took their technical foul shots and were preparing to inbound the ball and eventually got himself tossed as well.
You can hear the irate crowd loudly chanting "Refs you suck!" throughout the whole ordeal, and the officiating crew had to be escorted off the court with a full security detail once the game had ended.
Afterward, DeRozan still had plenty to get off his chest when speaking to reporters in the locker room, and it's definitely going to cost him.
"He smacked the sh*t out of me," DeRozan said of Corey Brewer when asked about the no-call on the layup attempt that would've tied the game. "He smacked me. He tried to smack me because I had a layup. Period. I got fouled."
DeRozan went on to said that the league needs address the ongoing qualms about officiating, suggesting that it's a league-wide issue affecting other teams as well, alluding to the tensions between players and refs that have seemingly reached an all-time high this season.
In the meantime, Toronto will have Monday off before traveling to Orlando to play the Magic on Tuesday.