It's difficult to imagine what the last few months have been like for DeMar DeRozan. In the summer of 2018, he was blindsided by the trade that sent him to San Antonio in exchange for Kawhi Leonard, claiming he'd been given assurances from Raptors brass, specifically Masai Ujiri, that he would not be moved.
His best friend, Raptors guard Kyle Lowry, was also devastated. The only difference is, Lowry has a much bigger and shinier consolation prize to help him sleep at night. DeRozan, meanwhile, was forced to look on as his former team — which opted to go with someone other than him as its No. 1 option — toppled the Warriors dynasty and earned their first championship in franchise history, a goal that had eluded him his entire tenure in Toronto.
DeRozan handled the win as gracefully as someone could, saying that he was happy for his former squad's success even if "we all feel some type of way, when you see a previous situation you were a part of accomplishing something great that you were after when you were there." But while Toronto marched to a title, DeRozan, in certain measurable ways, had one of his more productive years. DeRozan hit 48 percent of his field goal attempts (the best mark of his career, rookie season aside) and basically never attempted threes while logging more rebounds and assists than ever before.
In fact, his 21.2 points, 6.2 assists, and six rebounds make him the only Spur ever to average at least 20-5-5 for a season. That's a remarkable accomplishment given the team's legacy and the personnel who have been part of their illustrious tradition. For better or worse, DeRozan, along with LaMarcus Aldridge, now represent the new wave in San Antonio, as evidenced by the latter's previous contract extension and the current discussions reportedly in the works for DeRozan to stick around long-term.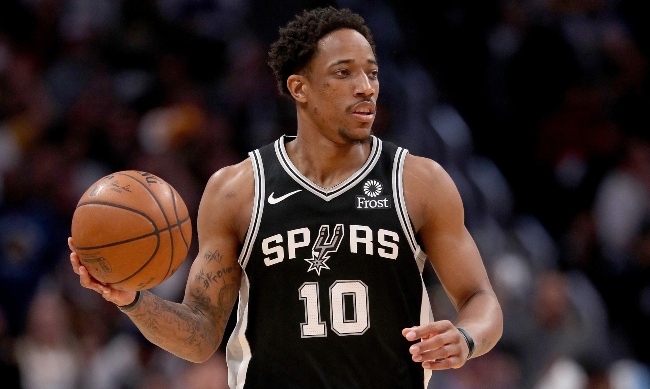 DeRozan has a $27.7 million player option for the 2020-2021 season and the Spurs have until next summer to extend him. According to Shams Charania of The Athletic, the two sides are engaged in talks, but it doesn't appear we'll see an agreement in the immediate future. There are plenty of reasons why the Spurs might drag their feet — DeRozan just turned 30, and though San Antonio has always been apprehensive about a full-scale rebuild, their backcourt has something of a youth movement in the works with the unexpected emergence of Derrick White and the impending returns of Dejounte Murray and Lonnie Walker from injury.
It's also pragmatic for the Spurs to slow play this. Waiting another year would also give them the opportunity to see exactly how good they can be with DeRozan, now with a full season in the Spurs' system under his belt, as their primary option and whether they'd be better off moving in another direction for the long-term.
Without question, the Spurs are keenly aware that it's an imperfect fit. On paper, neither Aldridge nor DeRozan quite match the Spurs' ideological approach. Both are high-volume, mid-range impresarios prone to stalling out the offense, neither of whom are capable of invoking much fear on the other end of the floor.
But if Gregg Popovich has proved anything over the years, it's that he's immanently flexible, willing to bend things almost to their breaking point to find solutions for how to leverage a player's strengths to his team's advantage while still managing to mold his talent in a way that facilitates them reaching beyond their perceived limits. The result has been a system in which just about any player can thrive. It's designed specifically to hide the warts and maximize everything else, and though it's predicated on ball movement from a philosophical standpoint, it's malleable enough to showcase players like DeRozan and Aldridge, while allowing space for its supporting cast to make meaningful contributions.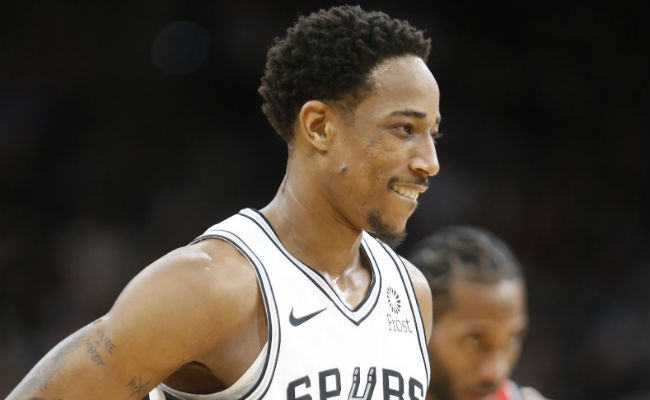 Any number of reclamation projects over the past decade stand as monuments to that abiding principle, most recently Rudy Gay, another former Raptor who was once practically ostracized by the rest of the league for his inefficient and one-dimensional play, yet who has managed to find his niche in Pop's system.
Still, the question is just how far a flawed roster like this can go. Under any set of circumstances, the Spurs are never an easy out. Just ask the Denver Nuggets. It took seven grueling games to get past them in the opening round last spring, and that was without their starting point guard Murray, who missed the entire season with a torn ACL. Murray, who seemed destined for a breakout before his injury, is back and healthy to start training camp, joining a backcourt rotation that includes another breakout guard in White and an unknown quantity in Walker.
Scoring is important in the NBA, and even with his lack of outside shooting, DeRozan is among the best in the league in that department when operating at his highest level. Yet we still haven't had an opportunity to see how he and Murray will co-exist, and it feels very much like that could be a determining factor in DeRozan's future, given the team's investment in their up-and-coming point guard. DeRozan will have to juggle the dual responsibilities of putting up numbers offensively and leaving enough space for Murray to develop at one of the game's toughest positions.
DeRozan will enter the season as the Spurs' top star, and though his pairing with Aldridge isn't going to crack many lists of the league's best duos, San Antonio once again seems destined to be a sleeper team out West. The way things look now, they'll likely be hovering around the seventh or eighth spot this season, and a run-in with the Spurs in the early rounds of the playoffs could prove hazardous. This is especially true if DeRozan makes a leap in his second year in San Antonio, and if he does, it's not hard to imagine him sticking around on a new deal for a long time.