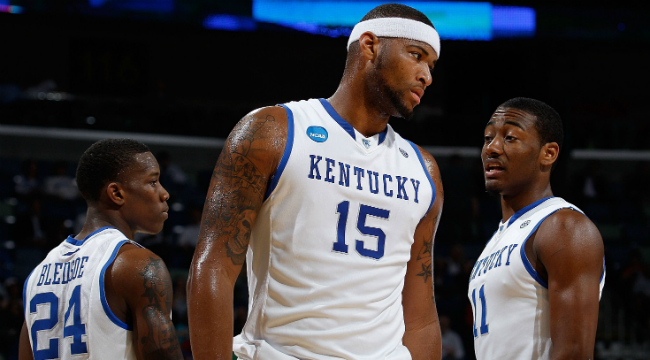 By now, we take for granted that every year, John Calipari's Kentucky Wildcats will send a passle of freshman and sophomores to the NBA Draft, but it wasn't always like that. His first recruiting class, which included future lottery picks John Wall, DeMarcus Cousins, and Eric Bledsoe, was the one that set the template for future super-teams. Unsurprisingly, those three college teammates remain close friends to this day, and often discuss playing together.
"We talk about it all the time,' Wall told the Washington Post before his Wizards took on Boogie's Kings.
"[Do we] talk about playing with one another?" said DeMarcus before the game himself. "Is that your question? It's come up."
Before you start plugging each of them into the NBA Trade Machine or wondering when their contracts run out, no one is saying anything to even begin to suggest actually leaving their team to make it happen. All of them, except perhaps Bledsoe, are the unquestioned primary stars on their team, and none of them have any interest in sending their local fans into a panic.
"They're going to all come to Sac," Cousins playfully proclaimed. "Come to Sac!"

And how does Wall react when Cousins pitches Sacramento?

"[Wall] wants me [in D.C.]," Cousins said. "Eric want us in Phoenix.

"Play with John and Eric again," Cousins contemplated, "you never know what will happen. It's the NBA, so hopefully one day he'll be in a Sacramento uniform."
Even though they're saying the right things now, who knows? Maybe the Kings will finally decide to pull the plug and rebuild, and maybe the Wizards would be willing to part with a huge package to put together a potentially devastating pick-and-roll combo of former Wildcats. As Cousins himself said, you never know.
(Via Washington Post)