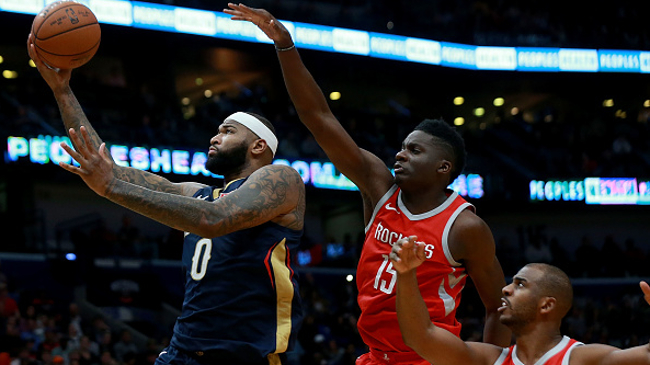 It was a scary moment for DeMarcus Cousins on Friday night late in the fourth quarter of the Pelicans' game against the Rockets in New Orleans. Boogie came down awkwardly after a missed free throw and eventually had to be helped to the locker-room by teammates.
Upon closer inspection, the initial fears were that it might be an Achilles-related injury, and that was confirmed by ESPN's Adrian Wojnarowski soon after, and the reports coming out of the Pelicans' locker-room don't sound promising at all.
The incident happened with just under 10 seconds remaining in a tight contest, and the Pelicans eventually were able to pull out the narrow victory, 115-113. Cousins logged a big triple-double before going down with the injury: 15 points, 13 rebounds, and 11 assists (and three steals). Fellow All-Star Anthony Davis led the way with 27 points and 11 rebounds for New Orleans.
Cousins was named an All-Star starter last week, and if he is – heaven forbid – unable to participate in the festivities next month in Los Angeles, the league will be forced to name a injury replacement, which would clear the way for one of the many players who feel they were snubbed from the team when the reserves were announced on Thursday night.