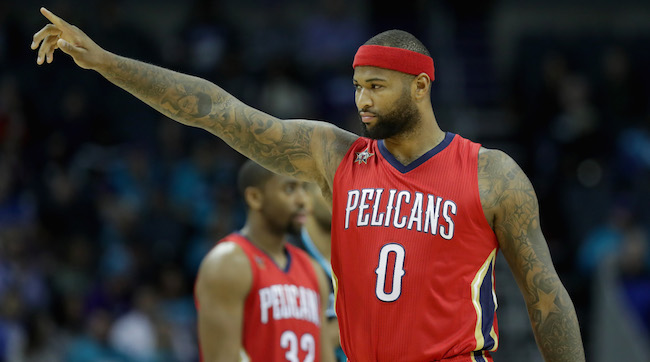 DeMarcus Cousins' partial season with the Pelicans has not gone as planned. The big man has played well, and is meshing better with Antony Davis by the day, but the Pellies are talent-depleted and have been eliminated from the playoffs. Still, there may be a bright future ahead for the twin towers in New Orleans, even if this season is lost. For his part, DeMarcus seems to be in good spirits.
TMZ caught up with Boogie while he was being totally chill with a fan, signing an autograph and taking a picture, and threw some hot-button questions his way. The answers were pretty standard: DeMarcus thinks all of the Kentucky guys are the best prospects in the upcoming NBA Draft, he's in awe of Russell Westbrook's historic season and "f*cks with" Russ off the court.
It was when the conversation shifted to everybody's favorite new basketball family, the Balls, that the conversation got wonky and especially and it's Boogie-est.
https://www.youtube.com/watch?v=9G87b2pia5E
When asked about Lonzo Ball, Boogie said "Never heard of him" and burst out into laughter, already beginning the rookie treatment, I guess. Then, he was asked about Lonzo's now-famous pops LaVar, to which DeMarcus responded resoundingly "He's a legend."
It should come as now suprise that Boogie is a LaVar fan. Their personalities seem to mirror each other, both are extremely vocal, confident, and have a deeply rooted love for their family. Now that it's on the table, I hope this opens the door for all sorts of Boogie and LaVar hijinks.
Boogie and LaVar on a podcast? LaBoogie on a Big 3 team? A DaVar reality show? I'm in for every single one of those options and already waiting impatiently for them to come to fruition.