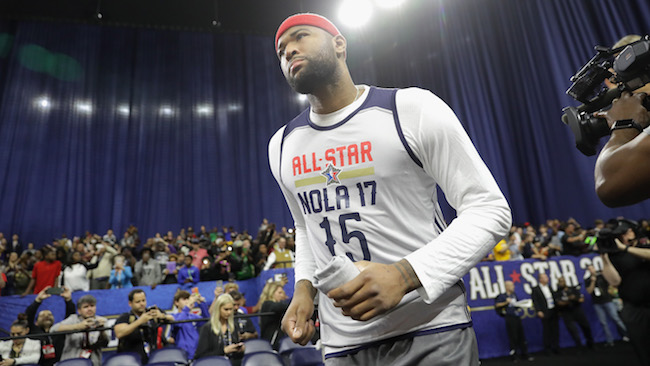 The DeMarcus Cousins saga with the Sacramento Kings has been a topic of conversation across the NBA for quite some time. While the All-Star center is one of the ten most talented players in the league, personality concerns exist and, aside from that, the Kings have been an organizational mess for the great majority of his tenure with the franchise.
With that as the backdrop, it appears that Cousins is back on the trade market ahead of this week's deadline. Word of "Boogie" hitting the market broke just hours before he was set to appear in the 2017 NBA All-Star Game and the timing was slightly curious.
To be fair, this isn't the first time that Cousins has reportedly been on the block but, with the addition of the "designated player exception," it appeared for all the world as if Cousins would remain in Sacramento on a five-year mega-contract extension following the 2016-2017 season.

To this point, there is nothing concrete about this deal, or if the New Orleans deal would involve a third team or not. That package seems a bit light for a players as uniquely talented as Cousins. And it's not as if this thing had legs in the first place.
That said, the rumors are out there, and if there's chatter, there's likely to be more chatter to come.
Just recently, Cousins expressed again a desire to stay in Sacramento. Via the Bee:
"For one, everyone knows I'm all about loyalty – I'm loyal to this," Cousins, 26, recently told The Bee. "I was brought here, I believe in myself, I believe in my abilities. I'm committed to this team, this city – it's been noted, and I don't want it no other way. I want to be with one team my entire career; I want to finish my career here in Sacramento. That's what it is."
Still, the availability of one of the game's best talents sends the 2017 trade deadline into chaos, and that is part what makes the NBA great.

UPDATE: Wojnarowski shot down his report on a Cousins trade … kind of. He spoke to Cousins' agent, Jarinn Akana, who let him know that the team hasn't said that they're looking to move the big man.
It is important to understand that this doesn't mean anything other than Sacramento doesn't seem to be actively shopping Cousins. However, things could change for a variety of reasons – namely, if a team offers a package for Cousins that Sacramento can't turn down. It's totally possible that this all means nothing will happen, but to be safe, we're all on #BoogieWatch until the trade deadline passes.