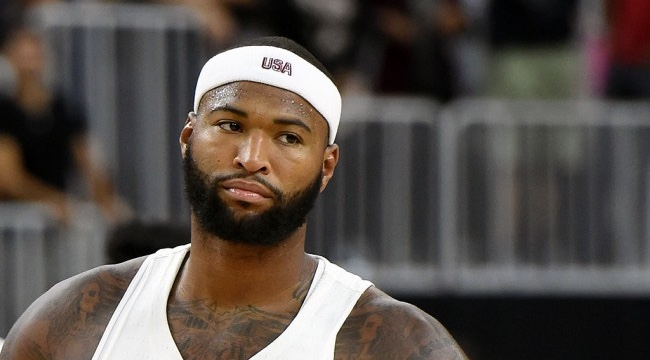 Getting a sense of where the Sacramento Kings stood on trading DeMarcus Cousins as of a few hours ago was nearly impossible. There were rumors abound that the team was entertaining offers for their star big man. These rumors were then sort of shot down by Cousins' agent, who said that the team hadn't told them anything about backing down from its promise of keeping him.
But apparently, things have gone to another level as All-Star Sunday progressed. According to Adrian Wojnarowski of The Vertical, the Kings had spent all day talking to several teams about a potential Cousins deal. In fact, Wojnarowski described the team's involvement as "fully engaged."
This could mean nothing, but Wojnarowski's follow ups to this imply that a potential Cousins move seems like it could happen sooner rather than later. The Kings have reportedly cut off communications with several teams. One team has even been told that their deal was not good enough to land Cousins because Sacramento got an even better offer from someone else.

Chris Mannix of Yahoo! Sports also chimed in on trade talks, saying that the Kings aren't looking for "equal value" in a move for Cousins.
Slowly but surely, it looks like it's possible the Kings are serious about moving their temperamental but talented big man.

UPDATE: Things are apparently close to the point of no return. According to Wojnarowski, Kings general manager Vlade Divac believes there are two offers worth pursuing, and he's brought them to owner Vivek Ranadive.
As for Cousins, he seems like he's tired of all this nonsense.
It seems pretty safe to say that no one wants a resolution to all of this nonsense at this point than Cousins.