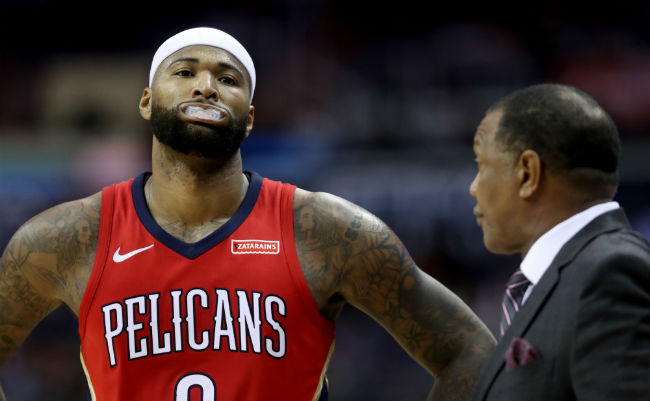 The Golden State Warriors might have made the move of the offseason when they secured the services of DeMarcus Cousins on a one-year deal worth a hair above $5 million. Cousins is working his way back from a ruptured Achilles tendon, but even if he takes his time and gets as close to 100 percent possible, that's fine, because the Warriors can afford for him to take as much time as he needs.
It's a major blow to the other 29 NBA teams, but it's an especially tough break for the New Orleans Pelicans, which traded for Cousins prior to the 2017 NBA trade deadline and were unable to keep him on board. As it turns out, they tried to secure his services once more, but surprisingly enough, Cousins turned them down.
According to Marc Stein of the New York Times' newsletter, the Pelicans offered Cousins a two-year deal prior to their season ending. Cousins didn't want it, and the Pelicans pulled the offer.
League sources say that Cousins rebuffed New Orleans' offer of a two-year contract extension in the $40 million range after the injury but before the season ended. When that offer was declined, sources say, New Orleans took it off the table.

It's an awfully big risk for Cousins, but it's one that makes sense. He's basically betting on himself, because while recovering from this injury is really, really hard, if he can do it, he will absolutely make more than $20 million on the contract he signs before the 2019-20 regular season. And if he's unable to bounce back, which leads to him never being the same player he was before the injury? Well, it doesn't seem like he even wants to acknowledge that option.
Cousins has been a relatively underpaid dude throughout his career — the most he's ever made in a season came last year, when he made a hair over $18 million. New Orleans wanted to offer him more, but Cousins is willing to wait another year and let things play out with the hopes of cashing in on a huge payday.