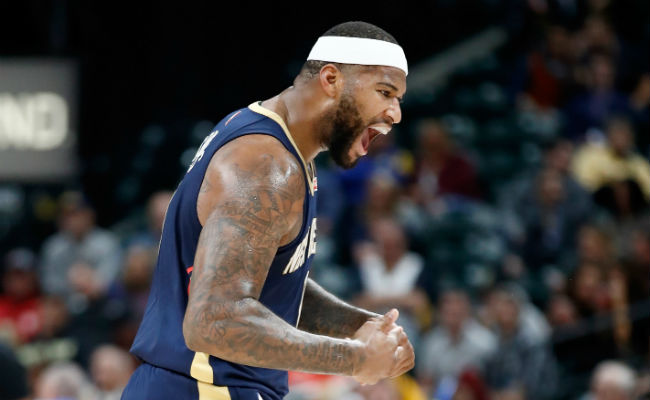 Up until late January, DeMarcus Cousins was an All-Star starter and seemed destined to pick up a max or near-max contract this offseason, potentially to stay in New Orleans with Anthony Davis.
When he ruptured his Achilles on January 26 against the Rockets, everything changed and his free agency suddenly became a major question mark. When July 1 rolled around, there were rumblings the Lakers could be the team to take the risk on Cousins coming back from the debilitating injury, but it suddenly became clear they were heading in a different direction after landing LeBron James and filling their roster with other veterans.
The Pelicans bringing in Julius Randle all but assured Cousins would be headed elsewhere, and shortly after that move, he found himself a home in Golden State with the two-time defending champs. The immediate reaction from fans, media, and players in the league was of disbelief, but as Cousins explains in a new Showtime documentary "The Resurgence," this was his "last resort" after he got rebuffed by other teams he contacted.

"We reached out to teams, the Pelicans, and there was no offer," Cousins says. "I understand, a big year and you don't want to take a chance on a damaged player. Cool. We reached out to some other teams. We got answers like, 'We don't believe it's a good fit,' or 'We gotta see what we're doing with our roster.' Just bullsh*t answers. And then there were some that were flat out like, 'We can't take that risk.' I had to prepare myself for this situation. The different possibilities that I knew would happen. Talked to Draymond, talked to KD, talked to Steph and they were like, 'Hell yeah, let's do it.' This was my ace of spades. This was my nuclear bomb. My last resort.
"Yeah, I could've probably got a contract, a decent contract, from a bad team. But how does that help me? I'm already fighting a career-ending injury. I'm not going to put myself in an already bad situation to try and prove my value or worth as a player in a situation that's not looking to win. I knew how I'd be perceived by some. I don't give a f*ck."
This goes along with what has been reported, but to hear it direct from Cousins illustrates the path he took to end up as a member of the Warriors. While he notes he understands, he seems genuinely hurt that the Pelicans weren't even willing to make him an offer this summer. After going around the league to find a deal he decided to make the call to the guys on the Warriors to see how they'd react to it, and ultimately they and the front office were on board.
His statement about not wanting to try and prove himself on a bad team or in a bad situation shows how he understands where he's at and that he needs stability around him to allow him to come back when ready and contribute as he can, rather than being thrust immediately into the top role coming off this injury. He knows the Achilles has been a career-ending injury, but in Golden State he seems to have the best chance of bucking the trend and reaffirming his worth while also possibly picking up a ring in the process.