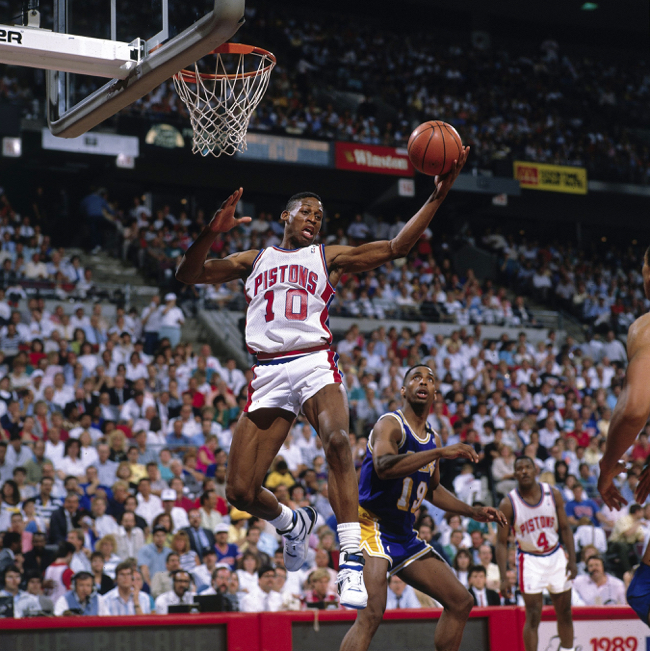 It's really easy to lump Dennis Rodman into the crazy category after his post-basketball infamy. And it's not like he was toeing the company line during his playing days, either, kicking cameramen, dying his hair in flamboyant neon, marrying himself in New York City, dating Madonna, etc. Rodman expert and unabashed Detroit homer, Andy Issac, detailed most of his histrionics — both during, and after, his playing career — earlier this summer.
But at the end of the day, Rodman is one of the truly transcendent basketball players. Someone who did something so well, rebounding, he's an outlier to the rest of the NBA population and should be afforded the respect that comes along with that status. No one could snatch the ball away from opponents like Dennis Rodman. No one. Sure, Wilt and Russell have rebounding numbers that no one will come close to matching, but Rodman plucked his boards in the land of real giants while only standing at a skinny 6-foot-7 (that's close to Kobe's height).
That's why the GIF Reddit's r/NBA revealed last week has to be shared. It displays just how much beyond his contemporaries Rodman was during his prime.
There were specific moments when Rodman's offensive rebounding percentage (the percentage of offensive rebounds Rodman grabbed while on the floor) and defensive rebounding percentage — not to mention his overall rebounding percentage — jumped nearly OFF THE CHART. One Redditor even classified one datapoint as "going up for a board" it so outpaced his peers.
That's because Rodman led the NBA in offensive, defensive and overall rebounding percentage for a half decade (1993-1997). That's forgetting to mention he led the NBA in overall rebounding percentage for eight-straight seasons (1991-1998), and that came during and after he won consecutive Defensive Player of the Year awards while playing for the Detroit Pistons. We'll save the discussion of his five NBA rings for another time.
But it's those rebounding totals that are so freakish. Redditor noahsbun compared Rodman's per-game rebounding numbers to the next highest each year he led the league, and the differences are just as staggering as the GIF.
Worm had the requisite fast-twitch muscles needed to jump two times while most players were still coming down on their first jump, but it was also his brain — as mottled with party favors as it might currently be — that set him apart. No one studied the spin of the ball, or specific tendencies of his teammates, as much as Rodman.
We can remember reading this Sports Illustrated cover story about Rodman in middle school and marveling at all the esoteric rebounding knowledge he'd gleaned long before analytics became the de facto way analysts talk about basketball.
Dennis Rodman is a freak, but not in the way you probably think.
Statistical support via the venerable basketball-reference.com.