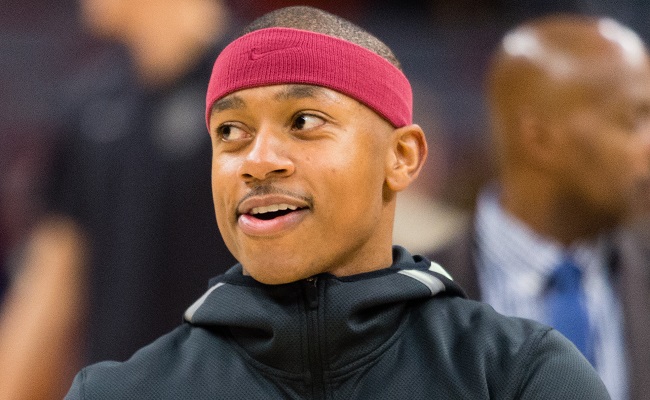 The Denver Nuggets experienced significant issues at the backup point guard spot during the 2017-18 season and, to put it plainly, the instability in that position may have cost the team a chance to make the Western Conference Playoffs. As a result, the Nuggets invested in an intriguing solution during the summer, handing Isaiah Thomas a one-year contract to back up Jamal Murray and potentially engineer the second unit.
While Thomas struggled mightily at times last season after hip surgery, the risk of the deal was minimal and, if everything came to fruition, the Nuggets would receive a sizable upgrade off the bench in the backcourt. However, it appears that Thomas' arrival as a full-fledged member of Denver's rotation may be delayed, at least according to Nuggets President of Basketball Operations Tim Connelly in an interview with AltitudeTV (via Chris Dempsey of Nuggets.com),
"We'll see. Like all of our guys, we want to be especially sensitive to Isaiah," Connelly said. "I think he probably has rushed back [in the past]. We want Isaiah to be right. So, he's working his butt off a couple times a day with our guys. He's getting better by the day. But we're not trying to win the preseason. Whenever he's ready, he'll be out there and I'm sure he'll be impactful."

Being careful with Thomas makes all the sense in the world, particularly after he returned too quickly from hip surgery during his stint with the Cleveland Cavaliers, something to which Connelly alludes. However, Sam Amick of USA Today notes that the timeline for Thomas to return is "unclear" and he is not expected to be ready for training camp when it opens in late September.
For a team with Denver's expectations, the bulk of the regular season and, eventually, the postseason is the bigger concern than whether Thomas can take the floor at the outset. Still, this isn't the best news for a team that needs his contributions to be at its best and it will be interesting to see how the Nuggets piece together the rotation (headlined by former Iowa State guard Monte Morris in the backup point guard role) until Thomas can return in full.