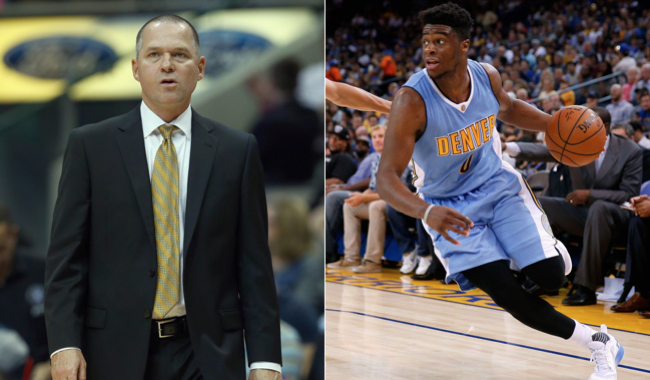 The 2015-16 NBA Season starts soon, preseason hoops are in full swing, and playoff prognostications have begun in earnest. Since season previews can get bogged down by team-specific minutiae, and we cover every basketball team, we're providing our readers reasons why you should care about all 30 teams in the Association.
---
---
Ty Lawson is gone. So is Arron Afflalo. Wilson Chandler, Kenneth Faried and Danilo Gallinari are still around, though, so their most frequent scoring options aren't totally absent. Plus, they've got this rookie who originally hails from the Congo, but who went to school in America. He was all set to join Larry Brown at SMU, but elected instead to go to China and play professionally. He's fun, and wise beyond his years.
They've also got a new coach: Former Kings helmsman, Mike Malone. We've always liked Malone, if only because he's the only coach who Boogie ever seemed to care about. That he inspires goodwill in a player like Cousins says a lot about his interpersonal skills. He empathizes with his players and knows how to put them in a position to succeed. Great hire.
But the Nuggets need a lot of work. A year ago Denver ranked in the bottom five for defensive rating and in the bottom 10 on offense. They don't really do anything that well and long gone are the days of their uptempo George Karl attack, which took advantage of the thin air to run roughshod over their competition in the West.
But that was now three years ago, and their former coach has even gotten another gig in Sacramento. What, if anything, can Mike Malone do with this bunch, and will Emmanuel be the star-in-the-making or the latest overhyped prep star to fizzle when faced with NBA point guards and NBA shooting?
Is Emmanuel Mudiay a transcendent addition?
Short answer: no. Longer answer: not yet. But the Nuggets have to be happy he fell to them at the seven spot. Perhaps it was the year in China, but Mudiay is making offensive reads like a five-year vet. And that's what's special. He makes those around him better. Yes, he can get sloppy with the ball and he doesn't have a consistent shot yet, though his "feel" shot fell at better than a 34 percent clip in the Chinese Basketball Association.
Synergy ranks Mudiay as just "average" in his 54 preseason possessions where he finished with a shot, foul or turnover out of a pick-and-roll. But he was ranked in the 95th percentile for those 24 pick-and-roll possessions where he found an open man who put up a shot, got fouled, or turned the ball over. His precocious ability to presciently envision a play before it fully develops truly makes him a unique find. This is so important in a game increasingly dominated by elite guard play.
Let's look at just two possessions against the defending champs in preseason.
On the first one, he goes away from the side Kenneth Faried screen and pulls up just outside the restricted area on the right side. Keep in mind, Andre Iguodala — one of the best perimeter defenders in the NBA — is giving him the side, so he keeps him out of the middle. Iggy's also riding him into the big man, Andrew Bogut. So what does Mudiay do? A simple head fake gets Bogut's arms in the air so he can flip a pass around him to the cutting Faried.
http://giant.gfycat.com/ElatedCornyBobolink.gif
There's simply no accounting for how a player will react in that situation. Sure, it's the preseason, but those are the defending champs and no one involved was a slouch on defense.
Here's another example when Mudiay initially tries to post up Steph Curry — an intelligent decision considering his size advantage. But Steph is tough and forces Mudiay out almost to the three-point arc. This way, when the entry pass comes, Klay Thompson immediately doubles Mudiay, who is still fighting Steph to retain possession of the ball after a high pass.
So Klay uses the "blue" (aka "down" or "ice") defense on the side pick Faried sets to force Mudiay baseline, where Thompson knows All-Defensive First Team selection Andrew Bogut is waiting. And that's exactly what happens. But Mudiay is so quick with his move under the rim, and so conscious of his surroundings, he immediately spots a cutting Wilson Chandler. Bucket.
http://giant.gfycat.com/EquatorialWindingHadrosaurus.gif
Did we mention he's not even turning 20 until March? And it's not like he's making the jump from college to the professional ranks. Whatever you feel about the NBA's age limit, Mudiay does have a built-in advantage on his competition. Overseas competition isn't the NBA, but it's still grown men competing on a basketball court for their livelihood. That's a big difference in terms of effort — even with top Division I schools.
"Mad-eye Mudiay" could be really special, if the small taste we saw in preseason and summer league is any indication. That's reason enough to care about this squad.
Mike Malone is the right coach
Brian Shaw was never the right man for the Denver Nuggets. That was clear on the court from the beginning. Shaw, a Phil Jackson disciple, stifled the go-go Nuggets by implementing the Triangle Offense, slowing pace, and pigeonholing players into roles they had no use occupying. He eventually relented and got Denver back to the style made most optimum by its roster and geography, but continued doing damage off the floor, too.
The Nuggets weren't the team for Shaw's tough love brand of leadership and motivation, and his wholesale shift in tone late last season – one that included "rapping" scouting reports before games – only made matters of worse. He never had the respect of his locker room. And while Denver's lack of collective maturity no doubt contributed to that fact, Shaw's inability to relate to his players certainly merits criticism, too.
Coaches should mold an overall approach to their team based on its strengths and weaknesses. Shaw didn't, and as a result he lost the Nuggets almost as soon as he became their coach.
Michael Malone has gone the opposite direction since taking the reins in Denver. He wants his revamped roster to play fast, leveraging advantages of the Mile High City and stylistic profiles of centerpieces like Kenneth Faried and Emmanuel Mudiay. That's a major change from his time with the Sacramento Kings, but what's not is the 44-year-old's unique relationship with his players.
Just shortly after Malone was fired by the Kings last December, DeMarcus Cousins said the Kings were "feeling sorry" for themselves as a result of his dismissal. Why? Perhaps Sacramento missed the sense of optimism and encouragement their former coach has since brought to the Nuggets.
There's more than one way for coaches to develop a rapport with players, but it's fair to say that Malone's buoyant enthusiasm – and extremely hands-on practice methods – is the right one for the Nuggets. This team, injuries and all, was better than its 30-52 record last season suggested.
And under the guiding hands of Malone, Denver seems primed to show it in 2015-16 and many years beyond.