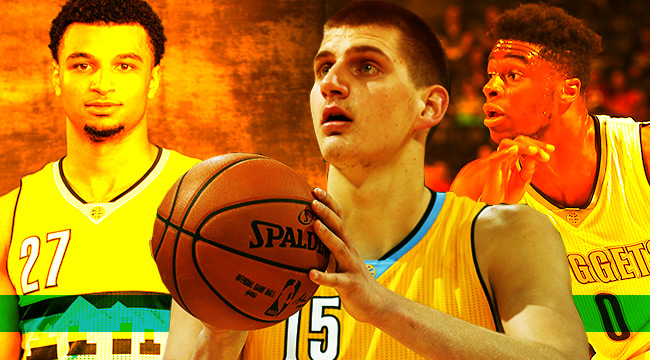 The Denver Nuggets are full of potential and talent, but the team is so young and raw that they resemble a lump of clay more than a basketball team. Nikola Jokic is one of the most exciting young big men in the league, Emmanuel Mudiay, Gary Harris and Jamal Murray have the makings of a killer guard rotation, and Danilo Gallinari, Kenneth Faried and Wilson Chandler are young enough to remain effective if they stick around while the newbies grow. But what if they're ready right now?
For the Nuggets to win the NBA title, Jokic has to become one of the very best centers in the NBA — something which he has the ability to do. His per-36 numbers as a 20-year-old rookie were stirring: 16 points, 11 rebounds, 4 assists, over 2.5 combined steals and blocks. Consider that Jokic came alive as the calendar turned to 2016 and his case for a leap forward statistically solidifies. Jokic is now solidly entrenched as the Nuggets' starter, and he's already among the most versatile big men in the league.
Let's say Jokic gets a little stronger — a simple logical leap for such a young guy. That shores up his defense, as he's already pretty quick, and if he becomes truly good on that end, his rare combination of outside shooting, passing and post moves indeed rockets him, and the Nuggets, into larger relevance. Surround him with shooters and you have a potentially lethal offense.
That brings us to Emmanuel Mudiay, who was one of the worst shooters in the NBA last season. He shot only 35 percent on catch-and-shoot jumpers, according to NBA.com, which absolutely has to improve. It probably will to some degree, but if it doesn't, the Nuggets just drafted a guard who can absolutely fill it up from deep in Murray.
Murray enters the league insisting he's a point guard while many scouts contend he's better suited to be a shooting guard — it's a tale as old as time. But the title of combo guard isn't an insult anymore, and if he's the first guard off the bench, his skillset of a shooter and sometimes primary ballhandler could mesh perfectly with Jokic, or even backup big Jusuf Nurkic, himself an adept passer.

Another non-shooter with which Jokic has to share the floor is power forward Kenneth Faried, who's no longer as undersized for the position as he was when he entered the league, but his lack of range still makes him an odd fit. And yet, he's a willing screen-setter and roll man, which means some big-big action with Jokic could be just what the doctor ordered. And Faried cleans the glass like a man with four more inches, which complements Jokic's more outside tendencies nicely.
So, what does a championship version of the Denver Nuggets look like? It looks like Mudiay penetrating and Jokic distributing, with Gary Harris and Gallinari spacing on the outside, Faried crashing the boards, and a bench lineup featuring Murray, Wilson Chandler and Nurkic flying on offense without giving up any physical brawn (have you seen how big Nurkic is?). It also involves a catastrophic injury to the Golden State Warriors, but hey — these things happen.
If Mudiay can crack 40 percent from the field and Murray shoots like he did in college, the Nuggets could have one of the most fun offenses in basketball, especially if Gallinari remains healthy. He can spot up, sure, but Gallo also provides a necessary element to any playoff team — a guy who can penetrate against a set defense and create something out of nothing, even if that something is just a trip to the free throw line. He's also a better defender than he gets credit for, mostly because he has so much game tape while hobbling out there. He's entering the season healthy, and he should be a difference maker.
Defense will be the interesting part of the Nuggets this year, but they brought in head coach Mike Malone, who managed to coax consistent effort out of none other than DeMarcus Cousins, and he should go a long way towards shoring it up. They will always have the elevation advantage of playing a mile high, and they haven't been this full of talent since they rode Carmelo Anthony, Chauncey Billups and Nene to the Western Conference Finals in 2009. They have lottery players leading steady veterans, and you know who else had that? The Oklahoma City Thunder when they arrived ahead of schedule — and they were a couple breaks away from multiple titles (ahem, trading James Harden).
Logically, the Nuggets are still a ways away from contention, but there's simply too much talent for it not to develop. And why not now? The Spurs are missing Tim Duncan and could have a subpar guard rotation, the Clippers can't find their way to the Conference Finals, and no other Western Conference team is all that obvious a lock to challenge the Warriors. Who's to say it's not the Nuggets' time?