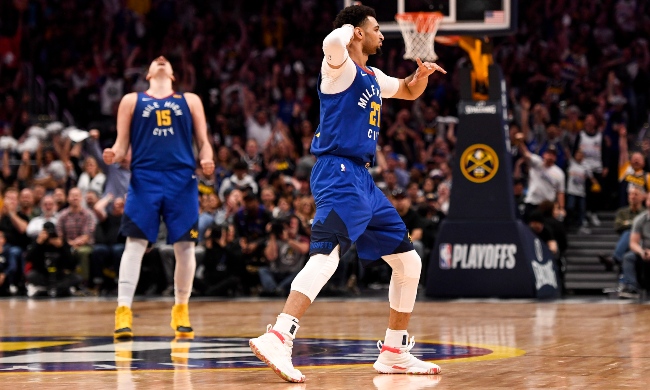 The Denver Nuggets struggled mightily for the majority of three games to begin the team's first round series against the San Antonio Spurs. With the exception of a fourth quarter explosion from Jamal Murray, there wasn't much to hold on to in terms of optimism but, in Game 4, Mike Malone's team showed up in a big way to restore home-court advantage and set the stage for a pivotal Game 5 on Tuesday evening. Forty-eight minutes later, the Nuggets were in a much more favorable position, holding serve in a 108-90 victory that gave Denver a 3-2 series advantage.
After a back-and-forth start to the night, the Nuggets asserted control, using a 14-2 spurt to grab a 19-11 lead.
The first quarter took place at a glacial pace, but Denver was able to score efficiently, based heavily on the conversion of five three-point attempts. On the other end, the Spurs struggled to the tune of 8-for-21 shooting, which allowed the home team assume a comfortable lead.
In the second quarter, that advantage continued to grow, with the big swing coming on a 14-3 run that gave Denver a 53-38 lead. Within that onslaught was high-end passing from Nikola Jokic (seven first-half assists), with strong work from Murray and Gary Harris.
Murray finished the first half with 13 points, five rebounds and three assists, with Harris adding 13 points and knocking down a trio of three-pointers.
Strong team-wide efficiency, including 17 assists on 21 field goals, allowed the Nuggets to take an 11-point lead to the second half and things didn't slow down through the break. In fact, Denver kept it rolling in a big way, opening the third quarter with a 12-2 run to take its largest lead of the series at 65-44.

The Nuggets continued to build on their lead, growing the edge to 28 points, as the Spurs floundered offensively. San Antonio managed only seven points in the first eight minutes of the third quarter and, in zooming out, Gregg Popovich's team produced only 49 points in the first 32 minutes of game action.
That stretch didn't fully close the book on the game, though, as the Spurs sprang to life with a 10-0 run to keep things interesting at 77-59. However, San Antonio couldn't sustain the uptick and a pair of threes from Jokic stopped the bleeding to aid in giving the Nuggets a 22-point lead as the fourth quarter arrived.
In short order, the Nuggets built their lead to a safe margin (as many as 30 points) and much of the closing period was reserved for garbage time. With at least one game and potentially two on the horizon, that was a nice subplot for the No. 2 seed but, moreover, Denver was able to cruise to a dominant victory in a spot in which the experience of their opponent may have come in handy if things were more competitive.
As usual, it was a balanced effort for the Nuggets, with Jokic (16 points, 11 rebounds, eight assists), Murray (23 points, seven assists), Harris (15 points), Will Barton (17 points, five rebounds) and Paul Millsap (14 points, six rebounds) accumulating potent numbers and thriving in an overall sense. They'll need an inspired effort to close things out when Game 6 arrives in San Antonio but, until then, Denver can take solace in a commanding series lead and back-to-back performances that should inspire quite a bit of confidence.