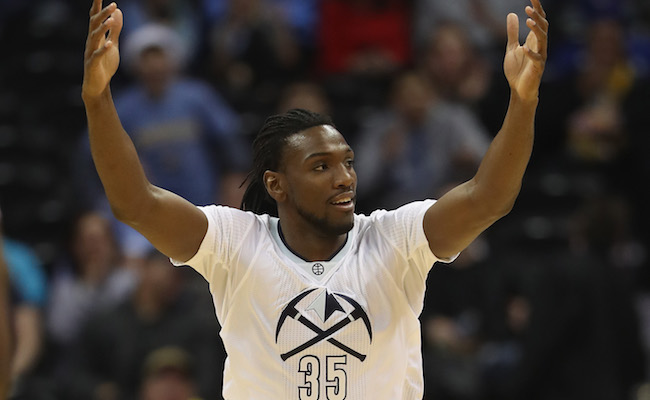 An interesting summer awaits for the Denver Nuggets and financial considerations will be at the center of it all. Though the Nuggets fell short of reaching the 2018 NBA Playoffs, Denver came as close as possible to joining the postseason fray and, by any measure, the squad has a bright future based on young talent like Nikola Jokic and Jamal Murray.
However, the roster is already expensive and the Nuggets have every incentive to decline Jokic's cheap team option in favor of extending a lucrative offer to the big man in order to keep him out of future unrestricted free agency. Beyond that, Denver is dealing with an already expensive roster, with Paul Millsap set to earn nearly $30 million next season and the duo of Wilson Chandler and Darrell Arthur expected to opt in to player options totaling more than $20 million.
Available capital in free agency isn't the concern for Denver, though, as the team's ownership group will be staring at a potentially cumbersome luxury tax bill if the aforementioned scenario comes together. To that end, buzz has existed that highly paid big man Kenneth Faried could be on the trading block and, on Thursday, Michael Cunningham of the Atlanta Journal-Constitution reported that Denver is "aggressively seeking to shed salary" by dealing Faried elsewhere in the near future.

The report centers on the possibility that the Hawks, covered on a daily basis by Cunningham, could be a partner in trade for the Nuggets and Atlanta is reportedly "willing to accommodate (the Nuggets) for the right price." Still, the Hawks would not be the only team potentially lining up for a chance to acquire future-facing assets from Denver, as the report also specifically mentions that the team's No. 14 overall pick could be available in any such deal involving Faried.
In addition to Atlanta, the Nets, Bulls, Pacers, Lakers, Sixers and Kings currently project to have enough salary cap space to potentially add Faried without sending any money back to Denver. Immediately, it seems wildly unlikely that Philadelphia and Los Angeles would be interested in utilizing their cap space in that fashion but there are several rebuilding clubs that would almost certainly love to take a look at a late lottery pick and/or a cost-controlled, young asset from Denver's bench.
In today's salary cap environment, Faried's salary of $13.76 million is an ugly one, though the overall negative impact of the contract is mitigated by the fact that he has only one year remaining. In the recent past, teams have executed trades sending first round picks to shed similar salaries but, because Denver's pick is so high in the pecking order, an objective evaluation would be that the No. 14 pick is "worth" more than simply getting off Faried.
The Nuggets will ultimately decide how much desire they have to shed Faried's salary in the coming days but, if they want to avoid a sizable luxury tax bill, the easiest way to do that just might be to eat their own lottery pick in the process.