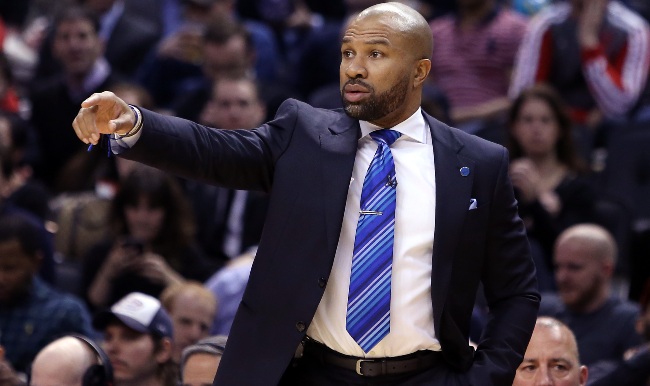 Derek Fisher's coaching career did not go particularly well, as the former New York Knicks coach registered a 40-96 record in a year-plus at the helm in Manhattan before getting fired. It was a brutal tenure, one in which nothing seemed to work in New York while the guy the Knicks wanted as their first choice before hiring Fisher, Steve Kerr, was in the midst of building a dynasty out west.
But that was back in 2016, and it's been nearly three years since Fisher has gotten the chance to coach. That opportunity will pop back up soon, although it's not going to be in the NBA. Instead, Fisher will join the Los Angeles Sparks of the WNBA, several days after the team's head coach, Brian Agler, resigned.
The word of Fisher's return to coaching was reported by Adrian Wojnarowski of ESPN.

Agler told espnW that he resigned because he felt it was time for a parting of ways. Agler accrued an 85-51 record with the Sparks, and was on the bench as the team won the 2016 WNBA championship.
As for the decision to hire Fisher, well, it certainly comes out of left field, even if it does make sense that his return to basketball would occur in the city where he is beloved for his contributions to the Lakers. Fisher has a ton to prove after his time in New York went so poorly, but the decision makers in Los Angeles believe he's the person to lead the winningest franchise in WNBA history.