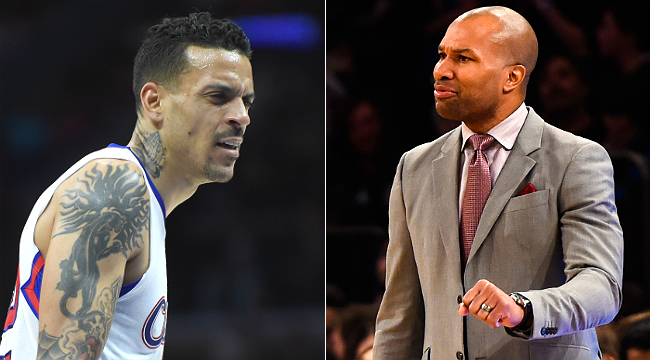 By now, you've heard about the fight involving Matt Barnes and Derek Fisher, two men who claim they were "good friends," yet brawled because Fisher was allegedly sleeping with Barnes' ex-wife, Gloria Govan. When the story came out, the details of the story were sketchy, and no one knew what happened outside of a confrontation on Saturday afternoon.
At Thursday's Grizzlies practice, reporters caught up with Barnes to get his side of the story. According to Ramona Shelburne of ESPN, Barnes says he was going to his ex-wife's home simply to check on the kids. That's when the fireworks started.
And here's where it gets ugly: According to TMZ, Barnes saw Fisher at the house and started to swing, striking the Knicks coach "square in the mouth."
We're told Derek fought back and "was holding his own" — until several people, including Gloria, rushed in to try to break it up.

But the fighting didn't stop until one of Matt's children came into the backyard and begged the men to stop fighting. We're told that pretty much ended things.
Yeah, that's about as awful as it gets. Young children had to watch two grown men (one of whom was their father) fight because somebody was allegedly, maybe doing something with their mother. This has years of therapy written all over it. Hard not to feel lots of compassion for these poor kids.
By the way, NBA security says they are aware of the incident, but as of yet have no comment, though it appears an investigation of some sort is in the works.