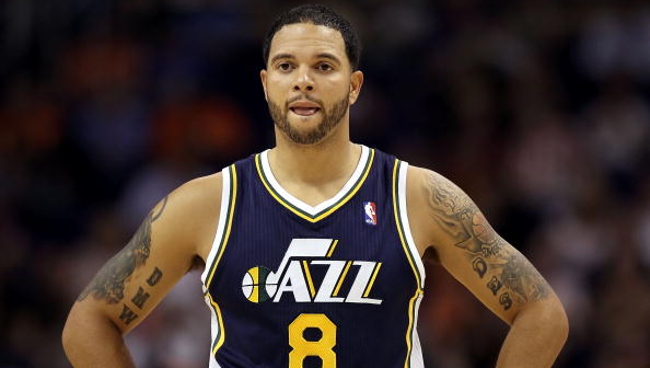 It's difficult to conceive of it today, but there was a time when the debate about the best point guard on the planet was a neck-and-neck race between Chris Paul and Deron Williams. If you don't recall this period, believe it or not, Williams deserved every bit of those accolades at the time. He'd taken the NBA by storm as the No. 3 pick in the 2005 draft, breathing new life into a Utah Jazz franchise that had struggled to find its footing after the halcyon days of Karl Malone and John Stockton.
But things went off the rails in 2011 amid rumors of infighting between legendary head coach Jerry Sloan and himself. Sloan abruptly announced his retirement in the middle of the season after a halftime fallout with Williams, and Williams was subsequently traded to the Nets soon after.
It has apparently weighed heavily on Williams over the years, and back in June, he had a chance to meet with Sloan at his offices in Utah to try and make amends. Sloan reportedly wasn't very open to Williams' act of contrition at first, though by the end of the meeting, the two had more or less buried the hatchet.
Via Aaron Falk of UtahJazz.com:
"He doesn't forget a lot of things, instances where I pissed him off, things I did to upset him," Williams said. "He definitely told me about that—and rightfully so. He was great about some other things. It was kind of typical Coach Sloan, really. If you know him, he's never been one to shy away from telling you the truth and how he feels."

Finally, they shook hands.

***

"I got a chance to apologize for how things went down," he said. "He got to voice his opinion about all the times I was a little s— to him and was a pain in his ass, and for him to get things off his chest. I think it was good. There was nothing bad about it. It was only positive."
Williams and Sloan clashed primarily over disagreements about play calling and Williams' approach to the game and to his position.
His career was never quite the same after the Jazz traded him to Brooklyn. Williams was hampered by injuries and left floundering on a Nets squad that was constantly turning over its roster and under-performing amid overblown expectations for one of the most bloated payrolls in NBA history.
Williams reached a personal nadir during his brutal showing in the 2017 Finals as a member of the Cavs, in which he logged five total points on 2-for-16 shooting overall, including 1-for-9 from behind the arc, a performance that was immortalized with a low-light reel for the ages. Nevertheless, Williams deserves credit for trying to make peace with his former coach and rectify a situation that has been a black mark on the Jazz organization for almost eight years now.
(Via UtahJazz.com)