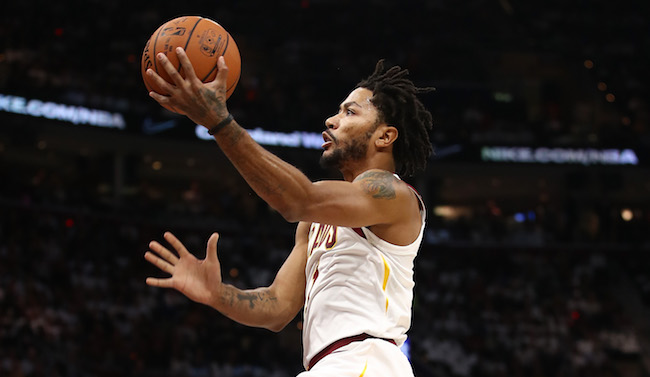 Injuries are flooding the NBA right now and no one is enjoying it. On Friday evening, the Cleveland Cavaliers suffered a loss of their own, as point guard Derrick Rose left the action with 10:12 remaining in the fourth quarter in what became a victory over the Milwaukee Bucks.
While Rose's ailment did not necessarily look devastating on first sight, word quickly broke that it wasn't ideal either.

After the game, Rose revealed that his ankle is sprained in speaking with ESPN's Dave McMenamin:
"I mean, it's a sprain. It is what it is. There's nothing I can do about that. Take me out [in] the air, kind of twisted my ankle when I came down. So, get a lot of treatment and see how it feels [Saturday]."
There are, of course, varying degrees of ankle sprains and further testing and evaluation will be necessary to document just how long Rose might be out of the lineup. Still, there was another subplot entirely, as Rose felt that his collision with Milwaukee big man Greg Monroe should have produced a flagrant foul.
"I think I'm the only person in the league that's not getting a flagrant for that call, bro. Come on, man. Like, I'm sure I'm the only player, but it is what it is. … That's a common foul. Wow. Come on."
Rose's assertion that he's the "only person in the league" that would not get the flagrant foul call is certainly interesting, even if probably born out of emotion. On the bright side, the injury is not to Rose's knees after an extensive history in that area but any ailment to his body is something to be concerned about for Cleveland, especially until Isaiah Thomas returns to game action.