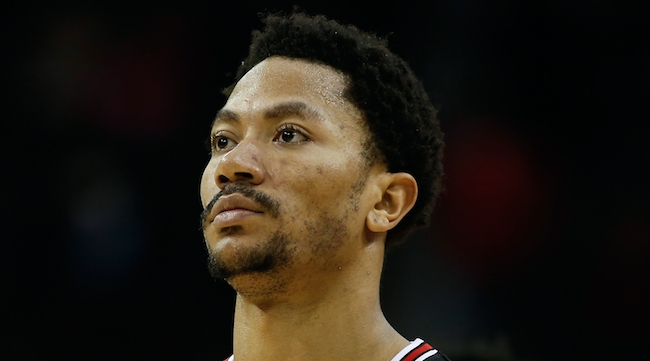 Derrick Rose might want to choose his words more carefully as he prepares to stand trial in a civil trial for sexual assault.
Rose, who was traded to the New York Knicks by the Chicago Bulls over the summer, is preparing for his first season in New York amid a civil suit where a "Jane Doe" accused the 28-year-old of rape in the summer of 2013. The civil case, part of a $21.5 million lawsuit filed in Los Angeles, has included some startling testimony and an occasion where Rose claimed not to know the definition of consent.
On Saturday, Rose seemed similarly unaware when choosing his words as he was talking to reporters about staying in game shape during the trial, which is expected to start on Oct. 4. When asked about the trial, which may last as long as two weeks and run into the preseason schedule, Rose used an unfortunate adjective when describing his workouts to the New York Daily News.
"I do penitentiary work outs," he said. "I'll be in my room doing pushups, sit ups. I got it from Lamar Odom. From when I played in my first World Championship team (with Team USA). He was on the team and the way he prepped himself before games, it was kinda like mini-workouts before the game.

"And that's something I saw and kind of stole from him. So yeah, when I'm in my room, it's stretching and having a little workouts, working on my body, flexibility, reading, and watching a lot of documentaries."

Rose, who is not facing any jail time in the civil lawsuit, said the case has not distracted him from getting ready for the season. He also isn't allowed to talk about the case per a gag order that came down this week.
"I'm sensitive to the subject and the topic but in my mind I feel like I didn't do anything wrong so I can't waste a lot of time thinking about it," he said. "I have a great team handling it. They doing the best to diffuse the situation, either to take it to court or whatever it is. Like I said, this is my first time in the system. I don't know what's next. So after I talk to (my lawyers Saturday night) and get more details, that's when I'll be able to tell you."
The Knicks' preseason schedule opens on Tuesday at Houston.